How we approach healthcare is changing. Patients, even those who have a strong relationship with their primary care physician (PCP) often forgo the traditional office appointment for the convenience of urgent care clinics. Customer-centric technology companies such as Google and Amazon are increasingly venturing into the healthcare field — no surprise, considering nearly one fifth of the United States' GDP is spent on healthcare — offering a spectrum of patient-focused and directed services, many of which can be accessed easily from a laptop or cellphone. These services seem to resonate with the modern consumer, particularly those who are technologically literate enough to utilize them. Are older generations being left behind in this move towards increasingly digital and consumer-centric healthcare? We spoke to millennial expert Amelie Karam to get her perspective on the differences in healthcare behavior between generations in the United States.
Karam, who consults with healthcare organizations about bridging generational gaps, has found that the average patient over the age of 65 visits a physician's office more than six times per year. In contrast, healthcare trends of American millennials (the 83 million individuals born between 1981 and 1996 who now make up the largest generation in the U.S.) point towards a preference for mobility and affordability. In a Washington Post article, 23-year-old Calvin Brown described "the whole 'going to the doctor phenomenon'" as something that is "fading away from our generation." Like most young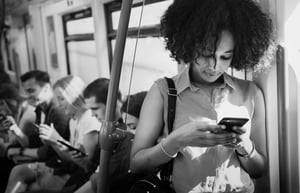 professionals only a few years out of college, Brown prefers the ease, flexibility and affordability provided by an urgent care clinic, which costs around $40 per visit, as opposed to visiting a primary care physician's office, which ties you to a specific location and can cost much more. Mobility is especially important for this age group as they travel and move around frequently, whether for work or leisure, compared to older generations who may be more settled into their careers.
Statistics show that Brown is not alone in this behavior and preference. In a 2001 Kaiser Family Foundation poll of 1,200 randomly selected adults, 45 percent of participants between 18- to 29-years-old did not have a PCP. In stark contrast, only 18 percent of those between 50- to 64-years-old and 12 percent of those aged 65 and older did not. This seems to clearly illustrate a generational shift in priorities, yet Karam noted that the core priorities and values in healthcare between generations are not all that different. She found that when asking baby boomers (those born between 1944 and 1964) and millennials what factors they consider most important in choosing healthcare, the top three factors are the same: out-of-pocket fees and costs, safety and quality of care, and compassion.
"We all want the same things," Karam said. "The core is the same, it is the details of how to get there that are different."
She also pointed out factors that can contribute to the differences in healthcare behaviors between generations that are not ideological. For one, millennials can be considered the "entrepreneur generation," with a 2017 study by America's Small Business Development Centers (SBDC) finding that nearly 50 percent of millennials surveyed planned to start a business in the next three years. Self-employment means purchasing your own insurance at high premiums with high deductibles or going without – in which case, primary care check ups can run up to several hundred dollars each.
Unfortunately, while these trends fit with one of the values that customers prioritize (cost) they do not necessarily promote the other two – safety and quality of care, and compassion. "Urgent care centers can misdiagnose or over-medicate as they do their best to give treatment without the patient's full medical history," said Karam. Healthcare apps and patient-directed health services present similar problems if not directed by a medical professional. Karam also pointed out that millennials are a "generation of WebMD" with their tendency to self-diagnose online. On the flip side, technological or telehealth solutions can be challenging for older generations to navigate.
While these solutions can deliver affordable access to healthcare, the quality of this care can only be assured if directed by a qualified health professional. Perhaps a reversion back to the days of having a personal primary care physician, even if now connected electronically, can fill this gap. It will however require that PCPs receive reimbursement for acting as stewards of health information and facilitators of telehealth services. Providing these services is essential for ensuring quality healthcare for all generations and helping to break down technological barriers to accessibility.
To learn more about Amelie Karam's work as a millennial expert, consultant and speaker, please visit: https://www.ameliekaram.com/
To learn more about Patient Access, a no cost solution for delivering copies of patient images, try a personalized demonstration tailored to your organization's unique needs: