The Best Way to Collect Patient Records from Various Providers
Written By:
Les Trachtman |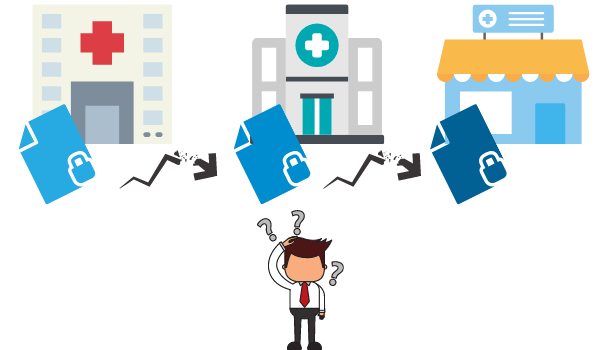 Patient Record Disconnect
The last thing a patient needs when they are sick, is to have to scurry around and collect their medical records from the various providers who generated the patient's medical records. Often these records can help to understand a disease progression that is critical for the patient's treatment plan. But patient records often reside at various providers who store these in proprietary, incompatible and disconnected silos, often requiring the patient show up in person to receive a CD or printed paper copy. Without these records in hand, a patient's diagnosis can be incorrect or incomplete. Expensive and sometimes uncomfortable tests may have to be performed again.
Most medical records are now stored electronically. Billions of dollars have been spent over the past two decades installing Electronic Health Records systems in hospitals and ambulatory care facilities only to find that the portability of medical records is still far from a reality. In the US, the regulations that ushered in the requirements for storing health records electronically are referred to as HIPAA and HITECH. Paradoxically, these laws were intended to digitize health records so that they would be more portable.
Digitized But Not Organized
Most patients and health care professionals don't need to be reminded that this well intended initiative did not make it easier for patients to access their records nor for collaborating physicians to share records. EHR systems and PACS store medical records electronically. But their newly digital format usually benefits only the provider who can now store these records in square inches volumes (digital disk drives) compared to what used to take hundreds of square feet of paper files. Each vendor's EHR system maintains these records in formats and behind digital walls that are not easily penetrated.
Adding to what is quickly becoming an electronic tower of Babel, each provider names and identifies their patient in a unique way that in all likelihood differs from other providers treating the same patient. That means that even if we can connect these systems, we still have the challenge of ensuring that all of the same patient's records coincide and reach the appropriate repository.
Perhaps someday electronic initiatives like HL7 and FHIR will truly take hold and pave the way for that high bandwidth conduit required for these systems to interconnect. But rather than waiting for Gadot, patients and health care professionals can act today to bridge this information gulf and make their lives easier and their outcomes improved.
Learn more about health care's 'last mile' and how we can fix it
The Expert View Solution
Purview has introduced Expert View as a way to electronically gather electronic health records stored in any format in any location. Expert View does this without programmers having to build complex connections between incompatible systems. Instead, it relies on its universal web-based uploader, that can be used by any health care professional no matter what software or hardware they use for their records storage, without having to sign up in advance or be part of a specific network. Expert View doesn't require technical knowledge. Data can be dragged and dropped into an icon of a container on any browser screen.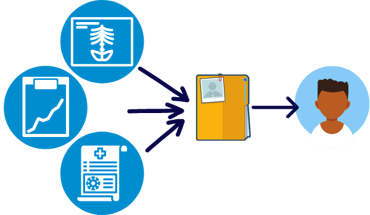 The magic occurs as the data is then seamlessly and securely transferred to a repository where it is tagged with a master patient ID, ensuring that despite their different provider-specific identities, the patients combined record captures all the information transferred, avoiding manual misfiling or incorrectly identified conflicts.
Once captured, the complete patient record is available to their healthcare professional in a format that the provider can view on any browser on any device or can download to their own preferred viewer. There are no longer issues with incompatible devices. No longer do healthcare professionals have to figure out how to make proprietary software communicate. No programming is required.
Patients benefit by having all their records painlessly collected and presented wherever they need them. Providers benefit by avoiding the painstaking process of manually trying to assemble patient prior histories. And payors benefit by not have to reimburse for duplicates of tests previously performed.
While medical record repositories remain disconnected islands, Purview's universal uploader bridges the divide, making it easy to collect and organize patient records without having to change systems, join a network or do any programming.