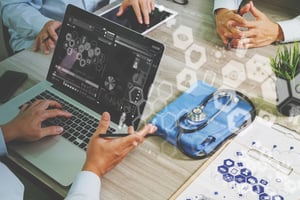 Remote second opinions are more in demand than ever before. This is due in part to a general desire for patient convenience but also accelerated by the COVID-19 pandemic. Although restrictions are lifting globally, patients are still nervous to travel to hospitals. If you've ever considered offering second opinions, now would be a good time to get started.
An important factor to consider is whether you should handle the process in-house or instead partner with a concierge referral service. While you may feel like the process is too daunting, you may be surprised to learn that the technology available can manage the bulk of heavy lifting and allow you to maintain financial control of all generated revenue from second opinions.
Your Practice's Reputation
Does your practice already have an established reputation in your industry? You've worked hard for that recognition and you should use it to your advantage. With an established reputation you likely won't want to be lumped into the same network as your competitors as this may dilute the clout that you've worked so hard to build. You may want to consider handling remote second opinions internally to leverage your notoriety and further your expertise as an outstanding healthcare provider in your field.
If you're still working to build your reputation, it may be beneficial to use a concierge service with an existing patient base to spread awareness of your service. This will help to get your brand recognized and be a catalyst for building trust with the patients in need of your expertise. However, once you begin to attract patients, you can consider transitioning to in-house management to avoid competing with other facilities in the same referral pool.
Maximizing Revenue
Whether you start with a concierge referral service or not, increased revenue from offering second opinions important factor to consider. It may make sense to sacrifice some of the margin to rely on a referral service, but assuming you have the capability to manage the process yourself, it may be difficult to justify paying for the service. With many institutions being financially impacted by COVID-19, expanding revenue opportunities is extremely compelling. If you're struggling to bounce back, the revenue potential of establishing second opinions on your own may be important.
Administrative Commitment
One of the main factors that drives a hospital to partner with a concierge service would be reducing the administrative burden. It is a common perception that managing second opinions internally requires a lot of resources. While concierge services can be convenient for many, technology has come a long way toward lessening that burden. The right software will do a lot of the heavy lifting for you, leaving you to focus on the important things - providing patients with expert medical advice regardless of their geographical proximity. The appropriate technology can enable patients to initiate a case on their own, collect and organize clinical data, including medical images and supporting information, collect fees, distribute forms, and communicate with the patients or their referring physicians seamlessly.
Your Existing Referral Network
If you don't have any existing relationships with referring physicians, it may be important to capitalize on the network that a concierge service can provide. If you already have a strong connection to a network of referring physicians but have not made a concerted effort to market second opinions to their patient base it would be worth using those existing relationships to accelerate your second opinion opportunities. This will give you a head start.
Conclusion
The most important takeaway from this is this is a great time to get started. Whether you manage remote second opinions internally or outsource to a concierge service there is value in offering your expertise to a wider rage of patients. Consider your existing reputation with referring physicians and patients, take into account the margins associated with a concierge service and understand your capacity for the administrative aspect in order to make the most informed decision for your practice.
If you choose to manage your remote second opinions internally, it's important to choose the right software to minimize additional administrative tasks that will complicate the process for you.