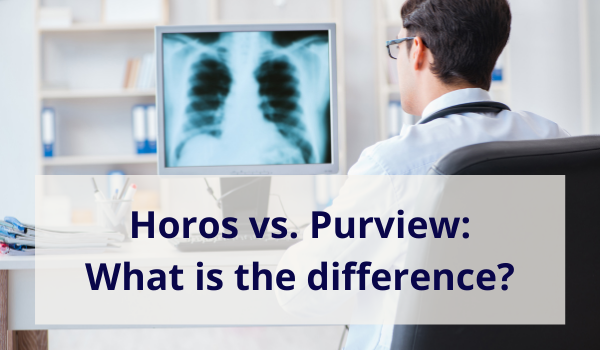 The Horos Project provides a great medical image viewer, with advanced visualization settings that make it a formidable option for people looking to view medical images on their Mac computer. The free open source software is attractive for looking at DICOM studies quickly and safely.
However, when it comes to storing those studies, Horos might start to falter. The Horos software is not intended for long-term storage of medical images and will slow down as it fills with studies. The software is also designed to only work on Mac computers, limiting the reach of your images. When you begin to run into these issues, it might be imperative to consider alternatives such as Purview Solutions.
The Real Difference
Purview provides value beyond the DICOM viewer, and extends its capabilities to all medical records, including storage and viewing of pathology files. Our viewer is FDA-approved and can be used on Windows PC's, tablets and mobile devices to make a primary diagnosis. Beyond storing and viewing, Purview has robust reporting features built in that allow for seamless collaboration with referring physicians and even has the capability to share reports and records immediately with anyone (even patients).
The Horos Project is an open-source software for medical imaging only, boasting more than 200,000 users. With Horos, you can manage DICOM images, import non-DICOM images, manage and annotate your studies, among other functionalities, solely on Mac computers. However, as mentioned above, Horos is simply software.
Is Purview the Same as Horos?
Purview is currently Horos' chief sponsor and curator. Purview dedicates time and resources to ensure Horos remains free and functional, and provides paid support to users who need technical support.
Importantly, while Purview's DICOM solution provides a seamless connection between Horos and the cloud that allows Horos users to send and receive DICOM images with non-Mac users, Purview offers separate solutions with no other association with the Horos software.
Put Simply…
Purview is more than just software. Our solutions can bridge the gap between your Horos DICOM studies and those who need access to them, but we offer much more than that. Our expert team supports our customers and partners every step of the way, from implementation, training, marketing, servicing your account on an ongoing basis, and more. We work hard to personalize our solutions to your specific needs and workflows.
Purview Perks…
Similar to Horos, Purview does offer a DICOM viewer. However, Purview solutions also facilitate collaboration between physicians, sharing reports and results with patients, case management of complex medical records, remote second opinion program technology and adaptive services, among other things! Purview's suite of solutions is specifically designed to help an organization like yours leverage your technology to grow your practice with your specific needs in mind.
Some features beyond technology that you can expect when you work with Purview:
Custom implementation planning & execution.
Dedicated account manager.
Live, responsive support that has over a 98% satisfaction rate.
Marketing support to ensure a successful program launch.
...and more!
Who is Purview For?
Purview serves clients globally who are looking for a partner to help them grow their practice or increase their efficiency. Our solutions offer time and cost saving benefits to ultimately increase your reach so that you can see more patients.
Share with our team what you are hoping to accomplish, what your business goals are, and what you wish your current systems did better and our experts will find the right solution for you.
For more information:
Sign up for one of our weekly demos to learn more about our Purview Image solution.
Need to handle more than just DICOM? Let's chat!
Email me at areynoso@purview.net to learn more about our other solutions.
While Horos is a great starting point for anyone, it might be time to upgrade to Purview's Premier solutions.