Purview's 8 Golden Standards of Account Management
Written By: Mary Geitz |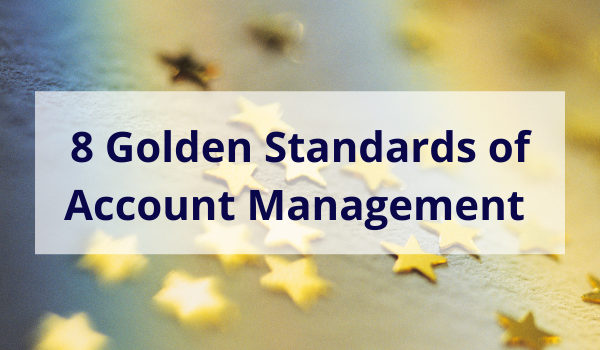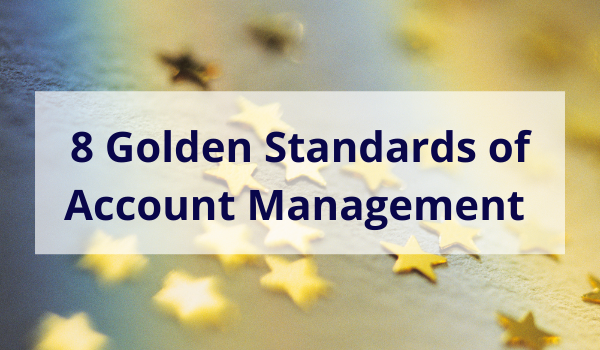 Account Managers are essential in maintaining good and productive relationships with clients. As the point person for ensuring a client is content and their implementation is running smoothly, there are certain best practices that we at Purview abide by to help our clients in the best way possible.
In a previous blog, I listed key traits that make a successful account manager and customer support representative:
Good listener
Empathetic
Transparent
Trustworthy
Now, we explore the 8 Golden Standards that I follow here at Purview to make sure our clients feel heard, respected, and taken care of.
1. The Golden Rule
Go back, way back to when you were a little kid learning about sharing and caring. Most of us remember learning the Golden Rule, "Treat others as you would like to be treated"
What does this have to do with Account Management? Simply put - everything!
The Golden Rule is the #1 Golden Standard.
Before any interaction, I make sure to try to take a walk in my client's shoes. How are they feeling? Happy? Excited? Frustrated? Upset? I think about how I would feel if I were in their shoes at that exact moment and how I would want to be treated. Then, I use that knowledge of how they are feeling to help infuse empathy in my conversations.
2. Listen With Care and With your Full Attention
Another important part of account management is asking questions, being curious, and listening to client's answers. Really listening. People are very good at telling when they have your attention or if you are distracted by other things. I strive to make sure that when I am talking to my clients, I am giving them my undivided attention.
Firstly, listening makes my clients feel heard and respected. Secondly, I am able to gather a lot of important information during this step about their needs and wants. Things such as eye contact (even in a virtual world), confirmation, and body language are essential parts of giving full attention.
3. Nurture the Client Relationship
I always keep in mind, there's a personal side to every business relationship. During my conversations, I try to get to know the individual I am talking with on a personal level - their likes, hobbies, and favorite things to do when they are outside of work.
I like to make a note of these fun facts and revisit them before each call. I remind myself I am building a relationship with a person, not just a client. Hint: This also shows that I've been listening!
4. Bring Value to the Conversation
Almost everyone in a client-facing role is the representative of their company and the expert. Most clients have said or thought the phrase "I don't know what I don't know."
If I hear this phrase I know that I need to add more value to my client conversations. This client is telling me that they are unsure about the solution we are providing them and they could easily get frustrated by that without a resolution
To remedy this, I provide information that is relevant to their situation and goals. If I am not sure what information to provide, I revisit #2.
5. Be Transparent and Communicate
Transparency and communication are the cornerstones of what sets a great account manager above a good one. In the previous steps, I've mentioned how I gather information intently, but how I communicate with clients is just as important.
My goal is to never over-promise but to be realistic. I know that my clients would much rather hear the truth about what we are actually able to bring to the table than to hear about the perfect solution for them, only to never receive it. If there is something my client wants that we cannot make happen (whether for budgetary reasons, technical constraints, etc.), I communicate clearly why it cannot be done and try to offer alternative solutions.
6. Be Accountable
Consistently delivering an awesome experience for my clients and being accountable looks like:
Making a human connection: picking up the phone and calling them!

Reviewing the customer's history: being aware of their situation before I speak to them.

Providing feedback that is in line with what they need.

Empowering my clients.

Always following up on the actions I said I would do.
I set standards for myself and my clients early on in the process and make sure to stick to those standards throughout the relationship.
7. Never Suggest Something That is Wrong for the Customer
It may be tempting to upsell a client because they've expressed a desire for a product or solution that my company provides, but I ask myself: Is this something that would actually help them in their business goals?
I avoid this by listening to my client's needs, researching the facts on what is right for their situation. Armed with the facts, I bring value to the conversation in the form of the best solution for their needs.
8. Be Yourself
When I have conversations, even tough ones, I try to be myself. Just as I try to get to know my clients on a personal level, I try just as hard to build real, long-lasting business relationships by being authentically me!
Final Thoughts
Being a global company, virtually building relationships with our clients at Purview can be challenging. Applying these 8 Golden Standards of Account Management helps me foster trust in my relationships. Trust is the key to business relationships (and personal relationships)!
Business relationships that are built on trust can lead to a solid and loyal customer for years to come.