Mastering DICOM Editing for Research & Education

Written By:
Kai Rivera |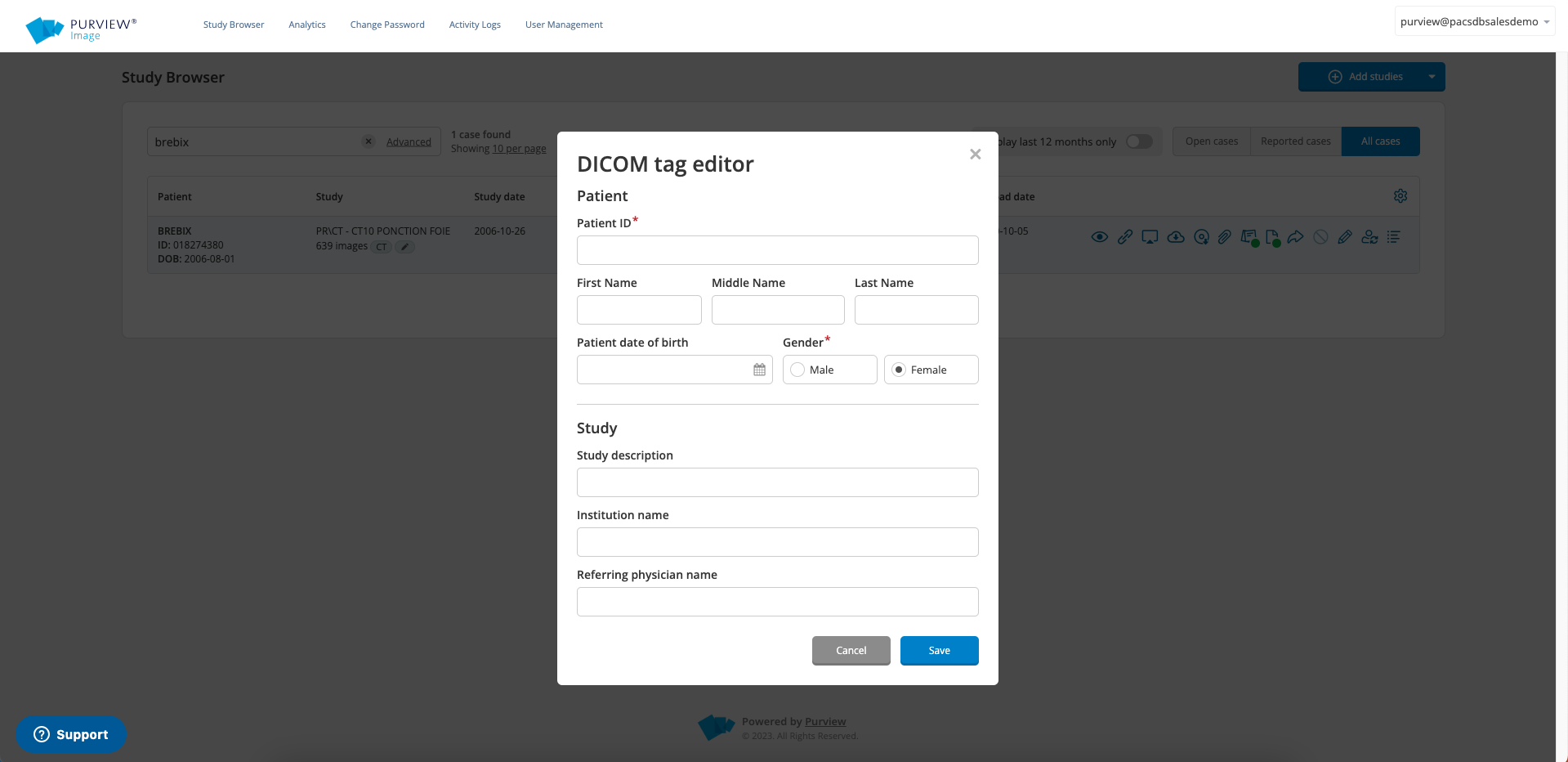 Physicians wear many hats, including serving as educators and researchers. Since medical images can be invaluable during presentations, Purview Image™ is often used by these physicians and their staff to collect, store, and access cases for subsequent review. Purview Image™ has also been used by large health systems to conduct major research initiatives because the platform easily grants users the ability to collaborate remotely and securely back up files within a HIPAA compliant, cloud-based system.
Recently, research coordinators Steve and Darlene, needed to consolidate images submitted by various facilities around the country to their health system for an important study on COVID-19. They cited ease of use as one of their main requirements prior to implementing an image management platform. In a recent interview, they commented that they never once received a phone call from the physician who was reviewing the images because Purview Image was intuitive and simply worked. Steve and Darlene have since recommended Purview Image as THE image management platform for research at their health system.
Prior to uploading the records to the cloud, research scans typically need to be sanitized of protected health information, or "anonymized", as we like to call it. Since all DICOM records in a PACS need to conform to the DICOM standard, incorrect anonymization methods leads to incompatibility issues when importing these records to a system like Purview Image.
When working with files that need to be anonymized, the person handling the records needs to make sure that the image files retain any DICOM-required details such as Patient Name, Date of Birth, or Patient ID to remain compatible with a PACS; at the same time, they must take steps to NOT reveal the patients' actual information. Typically, this involves creating an alias for the patient such as John Doe, Sally Brown, or Patient A123.
With the release of the new Edit DICOM and Change Patient functions, users with editing permissions can make changes to the medical image study information during the anonymization process. Historically, users had to have someone with higher authority make the technical changes to the records. In terms of research or education use-cases, users can quickly remove patient information from a scan prior to making the images available to a reviewing physician or to students.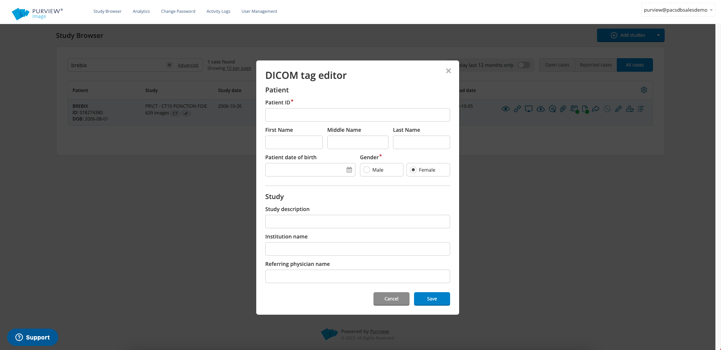 For auditing purposes, any changes made to the original scan can be found in the Activity Log, allowing the researchers to associate the original scan information with the findings from the anonymized scans.
Not only does it help researchers and educators, but the DICOM editor can be helpful in other use-cases as well:
Users can quickly correct typos made during the image acquisition process. Whether the scans are taken at an imaging center or a veterinary hospital, mistakes happen from time to time. Name, date of birth, patient ID, and other fields can be adjusted.
A specialist reviewing referred cases can consolidate multiple studies into a single, unique ID. Sometimes patients bring scans in from different imaging centers, resulting in multiple identifiers for the same patient. Searching for multiple IDs can make it challenging to isolate the studies. Once the scans have been edited to have the Patient ID, the images can also be grouped together in the Purview web-based viewer for side-by-side comparison.
Users can grant filtered access to cases based on Referring Physician or Institution tags. Purview Image users can be filtered to only see scans containing a certain doctor or facility name in the DICOM. System Administrators can create unique filters for outside users and adjust the studies accordingly to enable patient privacy.
The DICOM editor tag is a useful way for clinicians, educators, researchers, and various stakeholders to take control of the medical image data that they possess.

Sign up for the upcoming webinar
Mastering DICOM; How To Edit Like A Pro
to learn more about the DICOM editing tools
Looking for more information about Purview Image?
Walk Through a Self-Guided Demo or Book a Walk Through