Empowering Research with Purview Image™;
Steve and Darlene's Journey


By: Kai Rivera | June 22, 2023




In 2020, Steve and Darlene, research coordinators at a large health system in the United States, launched a clinical study to understand the COVID-19 virus. During the study, it would be critical that their team could both receive and share chest CTs with the radiology team for review. Darlene knew that the software needed to be fast, seamless, and easy to use, but their health system didn't have an easy or efficient way to receive the scans from various sites across the country.
In searching for DICOM viewers, Steve found Horos, a free open-source DICOM viewer for Mac computers. Knowing that the health system was PC-based, he continued his search for an imaging solution and found Purview, the Chief Sponsor of the Horos Project, who provides DICOM uploading and web viewing capabilities across various platforms. Interested in the web-based solution, that could be accessed from anywhere, Steve reached out to Purview and embarked on a 6-month journey to get the imaging solution approved within the health system's internal departments including cybersecurity and radiology.
Over the next few months, Steve and the Purview team collaborated to define:
1. The desired outcome of the project
2. Identify roadblocks and requirements
3. Implementation timeline and roadmap
Once approved by the organization, the implementation of Purview Image™ went by quickly. Steve, Darlene, and other users were trained on the online platform during video meetings where their staff were able to ask questions to dedicated implementation and training specialists. Using the drag and drop uploader, the staff learned how to upload scans to the cloud so the radiology team could review on the web-based viewer. Steve and Darlene shared with Purview that they were pleasantly surprised that the process was so simple, and the radiologist didn't have a single issue adopting. They said, "the system just worked!"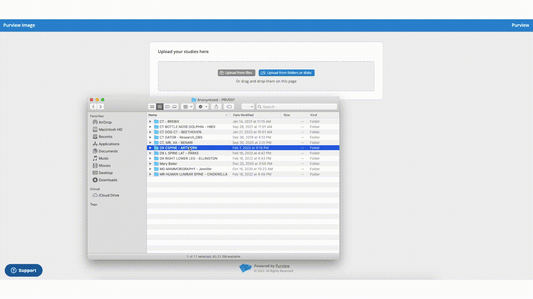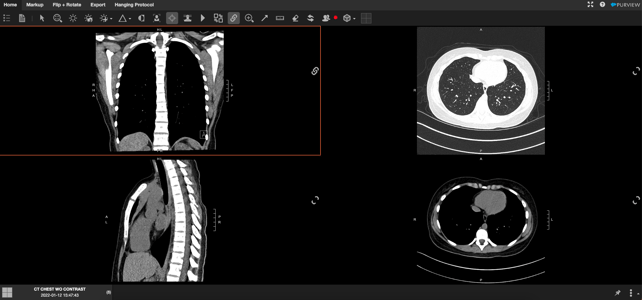 Calling the implementation process "phenomenal", Steve and Darlene have been recommending Purview as the go-to system for image uploads and web viewing for their health system. Months after their implementation, another cardiologist at their system has adopted Purview image and is currently using it for research as well as clinical purposes.
Steve speaks about the benefits of having a system
that allows the doctor to view images remotely


By implementing Purview Image as their system to receive and view CT scans online, Steve and Darlene solved these key issues:
1. Lack of segregated system for research purposes
2. Lack of remote access to imaging
3. Inefficient image uploading and consolidation
Looking for more information about Purview Image?
Walk Through a Self-Guided Demo or
Book a Time With a Purview Representative Today