How to Access DICOM Data From Multiple Locations

Written By:
Kai Rivera |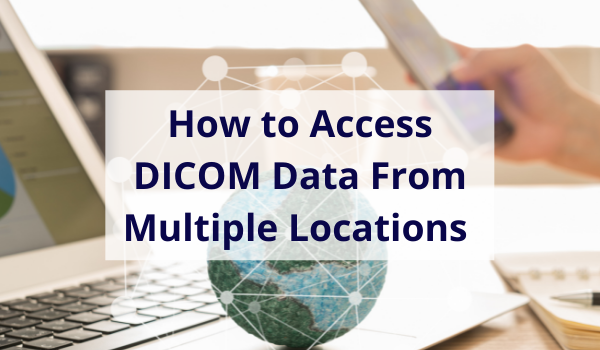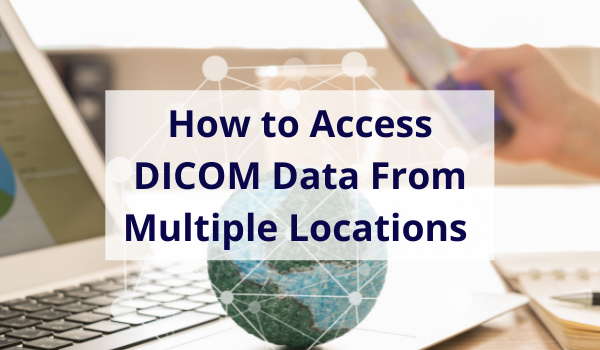 You likely landed on this blog because you need a more efficient way to share DICOM images between locations. Whether it's to expand your practice or merely increase efficiency, centralizing your images is a sure step towards streamlining your workflow. Read on to learn how each of your practice locations can access the same database.
Storing and Accessing DICOM
Medical imaging practices take scans of patients and a radiologist makes a diagnosis. The images can be taken on multiple modalities owned by the practice and need to be accessible to physicians in other locations for diagnosis. On the other hand, images that come from patients for a consult can be brought in by CD's or DVD's containing prior exams or sometimes by secure hyperlinks.
Storing all these images coming from different mediums in a centralized location will drastically decrease the time and effort spent looking for images stored in disparate systems. Whether you are looking to scale your practice across locations or you are ready to streamline your workflow, here are the things to consider as you plan to connect multiple locations:
Cost of providing access across many locations, including hardware and software costs




As you grow, think about the cost of installing new systems. Things like new machines, computers, and storage. Will you need additional hardware for each location or can you use a cloud PACS to share information between locations?

Accessing and viewing patient data


Before making a decision, make sure to consider: how many physicians need access? Where will they be when they need access? Do you need more than one PACS? How will the physicians view the patient images

? Make sure to consider the limitations of on-premises and cloud-based PACS.

Increasing efficiency




Time is money, so stop wasting time searching each machine for medical images. Carrying CDs from locations or sharing via email is not a safe or effective way to transfer medical data between locations.
Consider a Cloud PACS
Nearly all healthcare organizations rely on a Picture Archiving and Communication System (PACS) to centralize the patient images that are collected either by your modalities or from the patient's CDs. Many practices use an onsite PACS for organizing patient data within one fixed location. Often times with this option, the data is only accessible within the four walls of that location, or via a secure VPN.
Read more about the difference between onsite and cloud here.
However, with a cloud PACS, the data is stored in a central virtual location for all to access securely from anywhere. This can be a good solution when considering expanding locations so that your physicians can have access to patient records from whatever location they are at.
Cloud PACS Connection
You will need to make sure that the scanners are able to send DICOM to a central destination, like a PACS, over a network. Scanners can send to a destination so long as the connection is properly configured. If the connection needs to be secure, a Virtual Private Network (VPN) is required.
The destination will include an Application Entity Title (AE Title), an Internet Protocol Address (IP Address), and a Port.
AE Title: PACS_EXAMPLE
IP Address: 192.168.0.1
Port: 11112
With the help of your modality vendor, your IT group, and your PACS vendor, the connection can be made easily.
Vendor roles:
The modality vendor changes settings like DICOM destination and compression on the scanners.
The IT vendor adjusts network settings

for your practice. They will provide technical support and represent your interests when working across vendors.

The PACS vendor provisions a central location for your scans.
Getting Started
If you're growing your practice, don't let yourself get overwhelmed by trying to do it all yourself. Use the resources around you to help make your practice the best it can be. Search for different cloud PACS vendors who match your vision and as you do this research, make sure to consider:
Does the platform make sense to me/is it user-friendly?
Is the pricing within your budget?
Do they offer customer support?
What is my timeline to get set up and running?