How Can I View DICOM Images Remotely?
Written By: Madeline Kuon |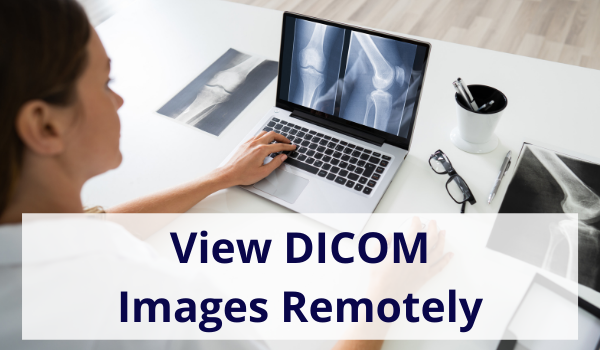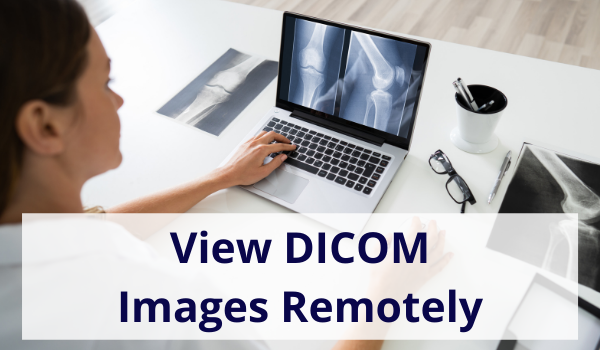 Due to the size of DICOM files, viewing medical images remotely can be difficult. In addition to the bulky file size, you must also be careful to keep your patient's e-PHI secure. Complexities aside, it is important for many modern practices to be able to access medical images remotely to avoid delaying appointments, procedures, or treatments. There are many options out there, but understanding the benefits and disadvantages is an important step in deciding which remote viewing method is best for you.
VPN to Onsite PACS/TLS Protocol
VPN stands for Virtual Private Network which is a type of secure connection allowing an individual or location to connect to hospitals. VPN to onsite PACS is used most frequently in larger hospital system networks to allow providers to view images when outside of the hospital network. VPNs work well to protect data but do take a level of maintenance and training for providers. A 24/7 support staff may be needed in order to assist providers with the use of the VPN.
Hospitals may also take advantage of a newer type of encryption, Transport Layer Security (TLS) protocols, to share DICOM files securely. This protocol enables "applications to communicate over the Internet in a way that is designed to prevent eavesdropping, tampering, and message forgery." These types of encryptions do require a significant amount of maintenance but can prove to be an effective way of protecting data while remotely viewing DICOM images that are stored on a hospitals' local PACS.
Open-Source DICOM Viewer
Many practices often share images through CDs, email, and Dropbox. These sharing methods are relatively easy to implement for imaging centers, hospitals, and veterinary practices. However, they could put you at risk for violating HIPAA if you are not careful.
If you've received a DICOM file through email, CD, or DropBox how can you view it?
If you simply need to view the image, you can download open-source software such as Horos on your Mac computer for free. This solution is great for viewing and loved by physicians and practices across the globe but is not recommended for the storage of medical images. This solution can also not be used on Windows operating systems, so it is unfortunately not accessible to everyone.
Cloud PACS
A cloud PACS or vendor-neutral archive will often sit on top of onsite PACS systems to provide organizations with a way to view images when not at the hospital without the use of a VPN. A cloud PACS allows for DICOM images to be securely stored in a cloud infrastructure that does not require active storage on site. Smaller institutions will often use cloud PACS as their main PACS system as it can be the most cost-effective solution for secure viewing of images remotely.
A cloud PACS not only stores your images but most offer a built-in DICOM viewer as well. This solution offers you the capability to store the images and view them from anywhere all within the same software. This is particularly useful if you have multiple locations that all need to view the same images, need to share images for other providers to review, or just want to streamline your workflow to consolidate applications.
Depending on the size of your organization, the number of locations, and specific use case any of the above-mentioned options may work for you.