What Resources Do I Need to Start a Remote Second Opinion Program?
Written By: Josh DeBartolo |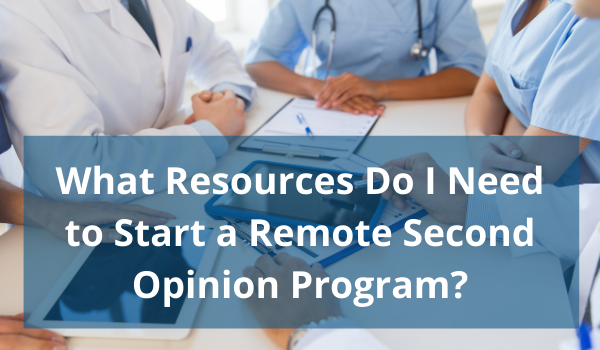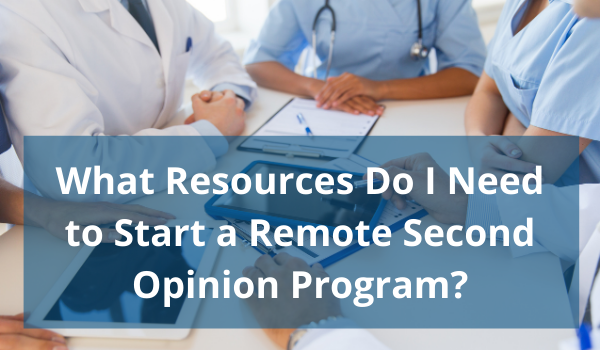 Are you thinking about starting a Remote Second Opinion (RSO) program but don't know where to begin?
Well, you're not alone.
A lot goes into the planning and launch of a successful RSO program beyond just having expert physicians ready to give their second opinions. While it might seem like a daunting task to launch a remote second opinion program, it doesn't have to be.
The Remote Second Opinion Maturity Spectrum
In our team's experience, we have observed that when working with specialty hospitals and sub-specialist practices to establish their Remote Second Opinion programs, each institution begins with varying levels of resources.
While a robust, purpose-built software platform is obviously a critical component, we have found that the success of these programs often hinges on organizations finding the right balance of which administrative services to maintain in-house and which to designate to outside vendors.
Some organizations we work with have chosen to outsource the entire administrative process through a concierge service. While this offloads the administrative burden, it usually adds significant cost to the program and leaves little room for flexibility. Other organizations are motivated to take on all of the administrative responsibilities for their RSO program in-house. In these cases, the success of the program is tied to facilities being able to accurately understand and estimate the resource requirements needed to run a successful RSO program prior to launching.
If you fall into one of those two categories, or if you're starting from scratch, it is best to take a step back and evaluate your options for proceeding while maintaining your brand integrity and not overextending your resources.
Free webinar: Learn Best Practices for Launching Your
Remote Second Opinion (RSO) Program.
Resource Categories
We have worked with organizations that operate across the spectrum to evaluate and establish their workflows, staffing, and other RSO program needs. We have found that administrative responsibilities for a successful program generally fall into five main categories.
These include:
Case Initiation
Records Aggregation
Case Administration
Opinion Delivery
Expert Evaluation
Within these categories, there are about 20 sub-processes that must be managed between the time a patient wants to submit a request for a second opinion and when a second opinion is ultimately released to a patient. Not properly accounting for even one of these steps can hinder the success of the program.
For this reason, at the beginning of establishing an RSO program, some of our clients choose to outsource the majority of these administration aspects of the review, while maintaining a small in-house staff to provide final sign-off and guidance over their RSO program. While in other cases, some clients prefer to hire or designate in-house staff capable of facilitating RSOs from the onset of their program. Most commonly, however, institutions will fall somewhere in the middle of this spectrum, and where they land will oscillate over time as the healthcare landscape changes and their programs mature.
Adaptive Services
Based on this understanding, Purview developed its Adaptive Services model to guide facilities at each step of the way in managing a successful RSO program. With Purview's Adaptive Services, we meet you where you are and help you grow as your program matures. This means that we provide as much or as little of the administrative services required to run a successful Remote Second Opinion program.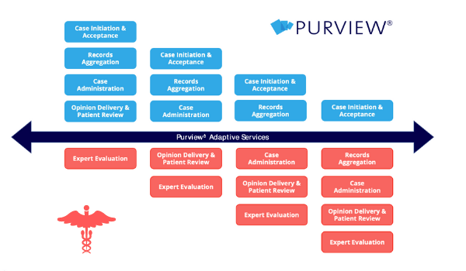 Adaptive Services is designed for growth and evolves with you as your program matures. This enables you to own the services that are appropriate for you each step of the way, while Purview shoulders the remaining responsibilities, adapting over time.
So, where do you go from here? First, you need to determine where you are on the spectrum to identify which resources you will need to make your program successful. Download the maturity model to learn more by clicking below.