Common Problems When Changing from a Local to a Cloud PACS
Written By: Matthew Wagoner |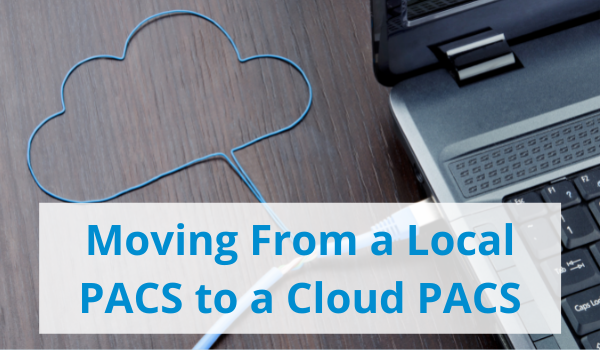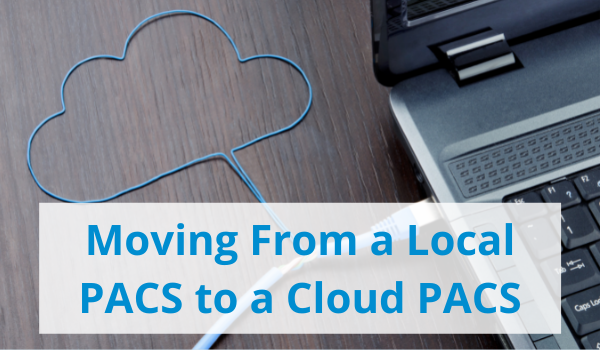 Do you currently have a local PACS and looking to change over to a cloud PACS solution? As you start looking into different vendors and the solutions they offer, it is helpful to consider the types of issues you may encounter when transitioning over to a cloud-based PACS. Below is a list of the three most common problems organizations have encountered when transitioning from an onsite to cloud PACS. Though it is not meant to be an exhaustive list, it will help you begin to prepare for this shift.
1. DICOM Standards
Most issues encountered during the transition to the cloud are due to the differences between the standards accepted by a local and a cloud PACS. Most notable is that a cloud PACS typically holds itself strictly to the DICOM standard, whereas a local solution has the ability to be more lenient with processing, viewing, and storing the files. This is typical because localized solutions don't always hold to the Universal Dicom Standard since it does not need to communicate with other systems.
What does this mean?
The different standards can result in some of your files having missing or miss-set required DICOM meta-data fields, causing a problem with the way the cloud PACS system can interact with these files.
In other cases, you may also encounter an inability to network send or view within a cloud-based viewer. Please refer to my previous article if you would like to read more about being DICOM standard metadata compliant and why it's important.
2. Exporting Formats
Another difference commonly encountered is that some local PACS and older modalities export their images in JPEG format rather than DICOM format. Upon transitioning to a cloud PACS, DICOM is the required format as this is the best format for clinical reads to get a more accurate definition of details.
3. Transfer Syntax
Due to the network aspect of cloud PACS, some practices also experience issues with the transfer syntax. There are certain transfer syntaxes out there that are retired or unsupported by the DICOM Standard, and therefore most likely unsupported by a cloud PACS. In some cases, there are also issues with proprietary DICOM formats, which are different from the Universal Dicom Standard published by Nema.
Our Recommendation:
To save time and money, and to avoid the hassle, talk to your cloud vendors about these concerns before you begin the transition to the cloud. Make sure that you ask them if they can compare one of your studies with their DICOM conformance statement to check if it will be accepted and readable by their systems.
If you do find that you encounter any of the issues covered above, we recommend that you work with your modality vendor and potential cloud PACS provider to see if they have any scripting solutions or other solutions to fix any DICOM-related issues.
Doing this before your final cloud PACS pick is a sure way to streamline your implementation process and will keep everyone involved content with the transition.