5 Things Imaging Centers Should Eliminate From Their Workflow
Written By: Samantha Ferguson |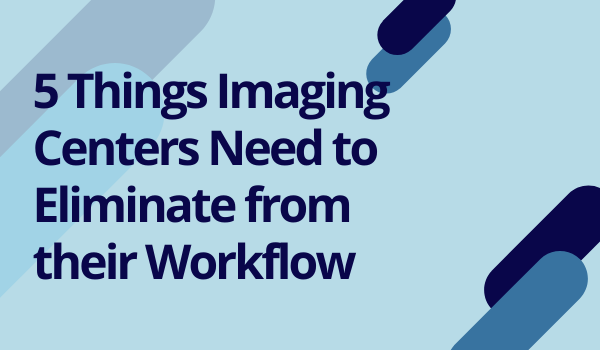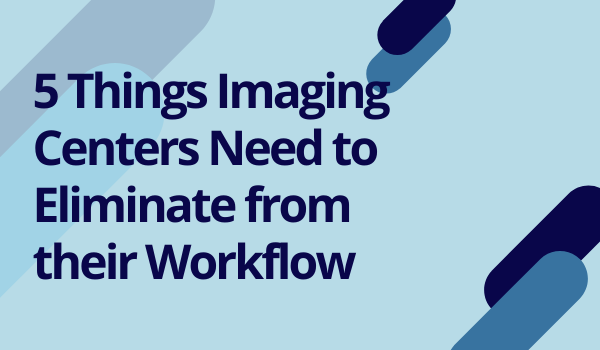 Currently, many imaging centers are losing revenue due to the volume decrease of elective procedures, dwindling insurance reimbursement, and the general lack of traffic due to the global pandemic. This has left many imaging centers trying to stay afloat in an increasingly competitive environment. We empathize with the larger issues that imaging centers are facing right now amidst the covid-19 pandemic, and we realize that many may not have the ability to lift their heads long enough to see where there is a leak in the boat. So we thought it may be helpful to highlight some common inefficiencies and ways that they can be resolved to save time and money so that imaging centers can focus on the larger issues that the healthcare industry is currently facing.

We understand that referring physicians are the lifeblood of an imaging center's bottom line. The inefficiencies that can affect an imaging practice the greatest will be the source of the highest volume of traffic: referring physicians. Adjusting how imaging centers and referring physicians communicate can be a simple way to make an imaging center more efficient. Many referring physicians have specific ways of doing business, but may not realize how much time and money is wasted on the outdated methods. Let's discuss some ways that imaging centers can increase efficiency as it relates to communicating with referring physicians.
CDs
CDs were intended to be a modernization to films. However, CDs present many of the same challenges that came with film records. CDs get lost. CDs get damaged in transport. And many times, CDs don't contain the correct information or are missing key elements necessary for diagnosis. Many referring physicians still request that medical results be shared with their office and their patients via CD out of habit or simply because they don't realize there are alternatives.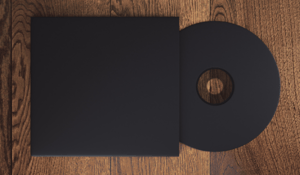 A qualitative study performed by the Journal of Digital Imaging observed perspectives of PACS professionals in four online discussion groups. It was found that participants reported that it takes numerous attempts before they can successfully burn an image to a CD, wasting precious time. It was also found that exchanging data via CDs/DVDs is extremely time-consuming and expensive for practices due to the effort and resources needed to burn and send them to physicians and patients.

Findings also showed that PACS supplied by different vendors don't communicate well with each other. Some differences include not having DICOM directories or lack of all the necessary files in PACS generated CDs/DVDs. A lot of the CDs do not have the DICOM directory in the root directory of the CD/DVD, resulting in the receiver needing to manually copy the DICOM files into the appropriate processing folder, or requiring the imaging center re-burn the CD using a strictly DICOM format.

At best, imaging center staff are unnecessarily spending time and money burning and sending CDs once. However, in many cases staff are burning and sending CDs multiple times for the same scans due to media being lost or damaged, incompatibility with the receiving physician's viewer, or incorrect information leading to double the effort and resources. Bringing these challenges to light may help bring imaging centers and their referring physicians to modernize their image sharing methods.
Watch our webinar to find out how you can eliminate CDs from your practice.
File sharing systems that are not secure
Many institutions turn to common image sharing applications for image sharing and storage without realizing the implications this has on personal health information (PHI) and how they are at risk. File sharing solutions such as DropBox, etc. are not inherently made to handle PHI and can lead to a myriad of HIPAA compliance issues if not used properly. A business associate agreement (BAA) must be obtained before any file containing PHI is uploaded to a Dropbox, Box.net or similar account to avoid HIPAA violations. But even with a signed BAA, it is possible to run afoul of HIPAA Rules when using Dropbox (HIPAA journals). Attempting to utilize a file sharing application that is not designed to handle PHI is a risk for your practice and your patients.
Fax Machines
Some referring physicians still request communication via fax without realizing that the manual nature of this process is a burden on staff and your bottom line. The Journal of Digital Imaging performed a study that highlights the inefficiencies that faxing causes. For the study, researchers faxed 100–150 sheets of paper reports daily to the various radiology reading rooms. Coordinators would consolidate the faxed paperwork and ask the radiologists to run a protocol on the study via a handwritten note on the faxed document. The process often took an entire day to be completed. Once protocoled by the radiologist, the request was faxed back to the IC technical area sometimes just in time for the patient's scheduled exam. This process is often referred to as 'the paper chase'. The paper chase creates delays in patient care causing increased rates of patient and referring physician dissatisfaction. "At any breakdown in this process (e.g., fax malfunction), lost paperwork delayed patient exams and clinicians and patients became upset while simultaneously interrupting the entire IC workflow."
This process is incredibly time-consuming and disruptive for staff, physicians, and patient care. "For the 7 weeks before paperless protocoling, there was an average of 23 interruptions in the reading room per day, and after implementation of paperless protocoling the number of interruptions dropped to an average of 12." As an industry that relies heavily on sharing of information with patients and physicians, fax machines are extremely outdated and burdensome on your administrative staff.
Systems that are not interoperable
Sharing medical results with referring physicians and patients is the foundation of an imaging center's operation. Currently, the process of sharing results with out-of-system providers is a disjointed operation that increases inefficiencies. An American Hospital Association (AHA) survey from 2015 shows that two of three U.S. hospitals couldn't locate, retrieve, send and/or meaningfully integrate the electronic medical records (EMRs) of patients who received care at other sites. The ability to share records with referring physicians is essential to your workflow, yet it is oftentimes extremely time-consuming and expensive due to a lack of communication between incompatible systems.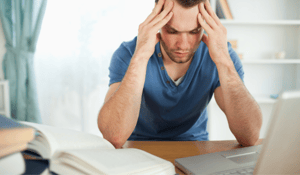 Digitization of records was intended to resolve this issue and result in easily accessible records. But two decades since the push for digitization of records, this is still a major concern for healthcare providers. While many practices have found efficient ways to digitally store the images that they generate, mobility still remains an area for improvement. More sophisticated interoperability requires a way to normalize patient identifiers, a trusted directory of physicians, and a convenient electronic workflow backed by a network through which the image data and report can pass (Diagnostic Imaging).
Conclusion
While we at Purview realize that referring physicians drive a lot of the imaging center decisions regarding how medical results are shared, we hope that this article is an impetus to nudge imaging centers and their referring physicians to reconsider their established processes. Now, more than ever, it is important to consider the seemingly innocuous business practices that may ultimately be hurting your bottom line.