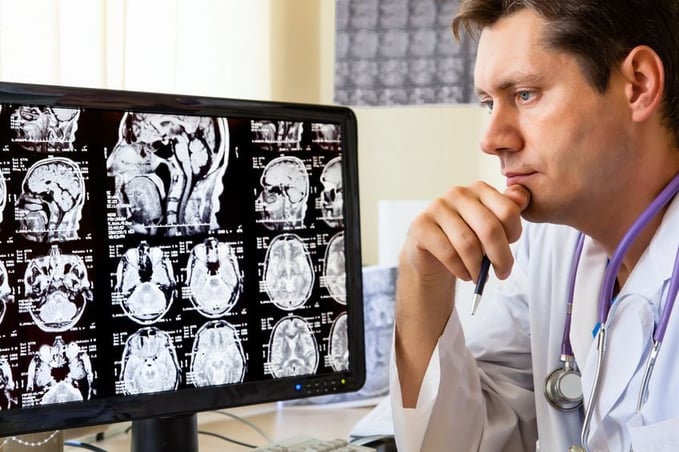 Suppose that a specialist physician in California is corresponding with a patient that has an urgent illness and is located in Texas. He'd like to schedule an emergency appointment. But to properly confirm and address the diagnosis, the physician needs to see the patient's medical imaging studies. Unfortunately, sending a CD through the mail is costly and wastes valuable time, and also runs the risk of the CD getting lost in transit or arriving broken or unreadable.
The alternative — a much better solution, and one that's growing in popularity — is being able to upload a DICOM imaging study directly to the cloud through a physician's web portal. This enables patients to electronically send their images to physicians in distant locations who are then immediately able to view and diagnose conditions from their cloud picture archiving and communications system (PACS).
In the medical field, delays can mean the difference between life and death. Seamless, electronic image sharing allows physicians to determine whether they are suited to treat a particular patient without ever requiring the patient to visit the physician's office. If imaging studies reveal that it is not appropriate for the physician to see a specific patient, the patient doesn't have to needlessly travel to visit the doctor. This also obviates the need to send CDs containing medical imaging for review. In such cases, patients currently have to wait several days for their CDs to arrive to a physician to be read, delaying diagnosis and wasting valuable time often at a critical point in the progression of a condition.
Yet image sharing over the internet presents its own set of problems and technical challenges. How can patients upload massive medical images in a specific format, sometimes with multiple components, without having access to specialized equipment? Will a simple browser really suffice as the tool to accomplish this?
Current Image Sharing Options for Patients
Today, another alternative to mailing a CD is to download an application onto your local machine that will help you send a study to your desired physician. But this idea creates a few problems of its own.
With viruses, phishing and security issues so commonplace for health care facilities, the idea of downloading something from the internet is almost anathema in the medical field. Hospital IT policies often prohibit downloads from the internet as they are dubbed as being potentially risky, especially if they are executable files (.exe) used for running applications.
The only other viable option is to perform the image sharing within a browser, also known as a "thin client." Most of us can run browsers on our machines, even with tight security protocols in place. However, every browser is a bit different. Some will not recognize CD drives in your computer. Some may not let you drag and drop directories. This increases the complexity for what should be a simple task and leaves many web-based medical image uploaders failing more than 50 percent of the time when patients try to upload images.
To avoid these issues, some people just use a file-sharing application like Dropbox or Google Drive to copy and share the files. But file sharing can be insecure and in some cases a de facto violation of the Health Insurance Portability and Accountability Act of 1996 (HIPAA).
A Better Method of Sharing Has Arrived
If only there was a way to insulate the user from all of these choices and enable uploading of medical image files from the CDs the doctor gave them. One that would not run afoul of IT security concerns, or HIPAA, and that would "just work" - this task would be much simpler.
Well, now there finally is an alternative that works with any browser, is secure, easy to use and foolproof — an alternative that addresses all of the objections raised above. Purview has developed a web-based, fully functional DICOM uploading system that enables patients to send studies to the cloud right from within their browser.
With this solution, you remain in compliance with HIPAA, and you can use it without having to download additional plugins or extensions, potentially risking the security of your system. This approach is reliable more than 90 percent of the time, which is a massive improvement over traditional browser-based systems that tend to work at best about half the time.
Speed Matters, But So Does the Right Solution
In the medical field today, speed is essential. Physicians and patients alike need the ability to capture an electronic image and deliver it to its destination as quickly as possible. However, you must make sure that whatever solution you choose to facilitate electronic sharing of medical imaging studies is able to do so without putting you at risk of compliance issues or compromising the security of your network. No amount of convenience is worth that level of cost.
With the drawbacks associated with having patients send you images via CDs, file sharing applications or email - invest in your practice by considering an option that integrates directly within your website and enables immediate, secure sharing of DICOM image files from patients. Time to diagnosis will decrease, saving valuable time time for both you and your patients.
A version of this post was originally published on February 10, 2017