Horos vs. OsiriX: What's the Difference?
Written By:
Les Trachtman |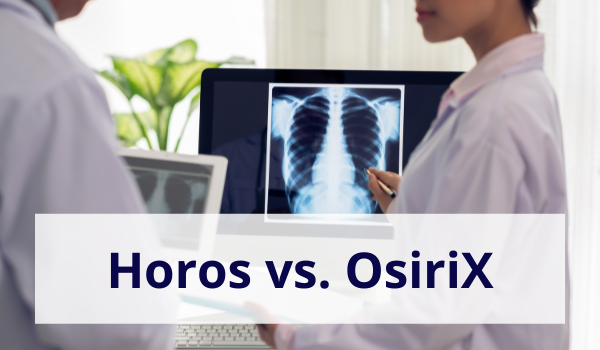 Horos and OsiriX are the top two medical image viewers for Apple computers. However, the products have different functionalities and work very differently in many respects. If you're looking for an alternative to your medical image viewing software, or are just interested in what's out there, here's what you need to know about the differences between the two.
Open-Source vs. Closed-Source
Horos is totally free and open-source software (FOSS), which means that its source code is available to anyone who wants to use it. This is especially valuable and relevant for people who might want to access or contribute to the source code or integrate it with other software, such as plugin developers, scientists, and academic researchers.
What's more, the Horos software is issued under the GNU Lesser General Public License (GPL), which enables users to add their own plugins to Horos and to establish legal protections for their code. This license convention even enables developers to enhance the product and separately license their version for a fee (assuming they abide by the license requirement).
By contrast, OsiriX started as an open-source project but is no longer truly open-source. Instead, the software is now available free as a demo application, known as OsiriX Lite, or as a paid version with full functionality known as OsiriX MD, which is licensed starting at $70 per month.
In March 2015, OsiriX version 6.5 was released under a new closed-source license, which upset many people in the open-source community. Many of these OsiriX users have since gone on to use Horos and participate in the Horos Project.
Do you need an FDA Cleared or CE Listed viewer?
OsiriX Lite and Horos are not FDA-approved or CE IIa Labeled. However, the paid version of OsiriX is. This comes into play in cases where FDA approval for primary diagnosis is necessary.
However, if you are a veterinarian, a researcher, or a physician secondarily reviewing an image for other than diagnostic purposes, both OsiriX Lite and Horos may be a better option.
Choosing Between Horos and OsiriX Lite
Assuming you want free, you can choose between Horos and OsiriX Lite. To make that choice easier, we've included the comparison table below. Both OsiriX Lite and Horos have most of the same functions as OsiriX itself with the following limitations.
Horos vs OsiriX Lite



OsiriX Lite
Horos
FDA Cleared/CE Labelled
No
Yes
Open>500 Image Series
No
Yes
3D MPR
No
Yes
3D Curved MPR
No
Yes
3D Volume Rendering
No
Yes
Local Database
No
Yes
Web Server
No
Unimited
DICOM Services
No
Yes
DICOM Nodes Limit
2 Nodes Max
Unlimited
DICOM Metadata Editing
No
Yes
Bonjour Protocol
No
Yes
CD Creation
No
Yes
PET-CD Display
No
Yes
JPEG2000 DICOM
No
Yes
Online Sharing
No
Optional
Structured Reporting
No
Optional
Finally, OsiriX Lite contains image overlays or watermarks that read "not for medical usage," which can be annoying or even prohibitive when you view or share your images.
The Final Analysis
All three products will provide the functions that most casual users need. However, if you want a product that is going to keep up with a more robust usage, you'll probably end up selecting Osirix or Horos. If a certified viewer is required, you should select OsiriX. Otherwise, for most other usages, Horos will likely be your choice.
No matter which you select, you will be getting some powerful software for a fraction of the cost of most other imaging software.
Want to learn about other solutions?
Check out Purview Image™