How South American Health Care Practices Continue to Work Safely During COVID-19
Written By:
Les Trachtman |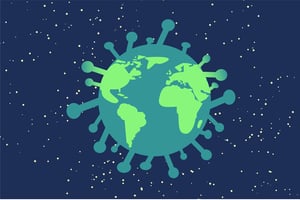 More than two million COVID-19 cases have been recorded and more than 100,000 people have died in Latin America according to the European Centre for Disease Control and Prevention. When it comes to healthcare, workers continue to man the front lines and do their best to serve their patients.

When COVID-19 first struck, Purview sprang into action. We offered one of our products, software for remote diagnostic image viewing, free of charge for healthcare workers around the globe. But healthcare goes beyond traditional doctors and patients, and for Purview this also includes forensics and veterinarians.

In Latin America, two of the organizations that adopted Purview Image during the pandemic were Abanimal Imágenes Diagnósticas in Bogatá, Columbia and Instituto de Radiología in São Paulo, Brazil.
Helping Veterinarians
Abanimal Imágenes Diagnósticas, is the first veterinary diagnostic imaging center for small animals in Colombia. Abanimal provides services in the city of Bogatá At the start of the pandemic in March, the veterinary imaging practice had to change its way of working.

Dr. Daniel Navarrete, the General Manager and Veterinary Radiologist said: "By reducing our on-site staff, the technologist acquires the images in the normal fashion; a veterinarian performs the ultrasound exam. But then our radiologist reads radiology and tomography studies remotely, from their home, using the PURVIEW platform. Our interns and assistants, also from home, prepare the headings and preliminaries of these reports. With this change in technology, we have all been able to continue working without unduly exposing ourselves to the virus. This system has facilitated our work and has allowed us to continue providing service to veterinary doctors who require our diagnoses for their patients."

We and the pet-owners in Bogota are thankful that Dr. Navarrete and his team can safely continue to deliver their excellent care during this pandemic.
Making Autopsy Scans Accessible
Instituto de Radiología, based in São Paulo, performs minimally invasive autopsies on COVID-19 infected patients to improve the understanding of the disease's mechanisms, a critically important function that may help improve the prognosis for future infected patients.

Dr. Ellison Cardoso stated: "At InRad, we used Siemens Virtual Operation Center to operate and acquire images from CT scans and then send them to the Purview platform. Ultrasound-guided biopsies are the only procedure performed locally. But with Purview remote access, we have been able to more safely review these minimally invasive autopsies through imaging in COVID patients. Using Purview, Our radiologists can safely evaluate images and see the corresponding biopsy findings while staying remote.

We salute Dr. Cardoso and his team for staying safe while playing an important role on the front lines of this battle with COVID-19.

These are just two examples of how Purview technology is helping healthcare workers on the frontline in South America and across the globe to continue to operate while providing a safer environment during this pandemic crisis.