5 Reasons to Start a Second Opinion Program
Written By: Greg James |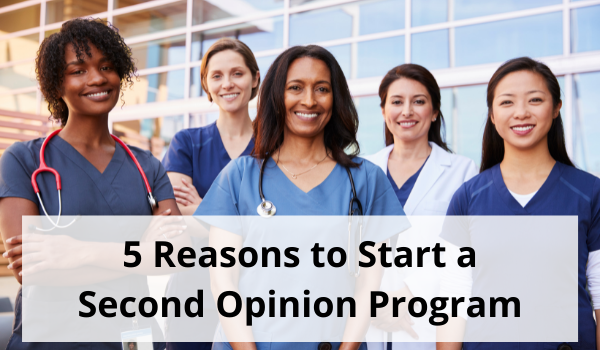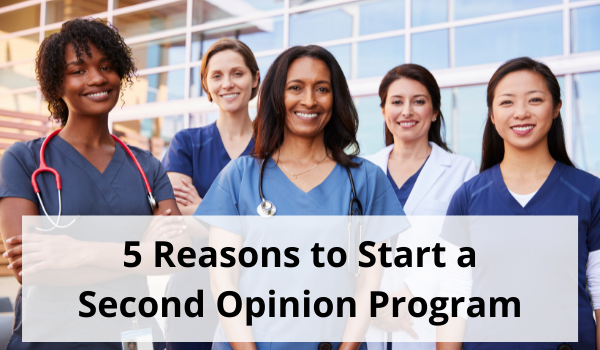 When most think of second opinions, they picture patients traveling to a physician following a serious or complex medical diagnosis. This method does work for many patients, but what about those for whom it doesn't work? There is a growing interest in seeking out medical opinions online, and many have found ways to help patients without ever meeting them in person.
Patient preferences are shaping the way that hospitals and specialists deliver care, but why should you invest in creating a program to deliver second opinions virtually? Let's discuss the most common reasons our clients have decided to create a structured program to meet the demands of patients seeking opinions online.
Increase Patient Base
Patients are searching for answers online, especially after a serious diagnosis. According to The Advisory Board's 2019 Cancer Patient Experience Survey, 52% of respondents ranked "doctor who specializes in my particular cancer" as the most important factor in choosing where to go for care. But, what if they can't travel to the hospital where that doctor practices? In the past, that was a lost opportunity, but with the advancement of technology, this patient now has more options. What this means for your hospital is that you can help a larger pool of patients who are in need of your specialized care and take your hospital beyond the four walls of your facility.
Revenue
Building trust with patients through second opinions will also increase the likelihood that patients will seek treatment or care at your facility. One hospital in Ohio reported that 53% of second opinion patients become hospital patients within 15 months. Even just a small percentage of these second opinion patients can make a positive financial impact.
Protect At-Risk Populations
The timeless need to protect those most at risk has only been magnified by the COVID-19 pandemic. The Centers for Disease Control and Prevention (CDC) states that "Leveraging telemedicine whenever possible is the best way to protect patients and staff from COVID-19." Reducing unnecessary face-to-face encounters helps everyone, but no one more than those with underlying, chronic conditions. Online Second Opinion programs are geared specifically toward these particularly at-risk patients.
A recent report put out by the Advisory Board says, "the most common populations who use [remote second opinions] include patients with complex or life-threatening conditions…" Online Second Opinion programs help protect these vulnerable populations by enabling them an avenue to seek expert guidance, without having to be exposed to the health risks presented by travel and increased face-to-face interactions.
Read the Advisory Board's article: Remote Second Opinions 101
Save Time
In some cases, time is crucial in reaching a positive medical outcome. Prior to hospitals and other providers offering online second opinions patients had to be physically referred and would have to travel long distances to receive the care they needed, often involving taking time off work and incurring other travel expenses. Today, patients have the option to receive an expert medical opinion at times that work best for them at home which reduces the time to diagnosis and hastens treatment.
Improve Outcomes
A study by the Mayo Clinic identified that as many as 88 percent of second opinions either differ or refine the original patient diagnosis leading to different, lifesaving care plans. This occurs often when the physician rendering the second opinion has specialized expertise in the field in question and has the benefit of a careful review of the patient's prior complete set of clinical data, which an Online Second Opinion Program can provide.
Second opinions are increasing in popularity. Not only do your patients want to get your specialized opinion, but offering it online can benefit your hospital in many ways as well. It is a program that can be essential to invest in if your hospital would like to expand its patient base and offer care to patients globally.