Patients Prefer Self-Pay for Copies of Their Medical Images
Written By: Tilden Bowditch |
Many physicians and healthcare providers don't charge their patients for a copy of their medical images because they fear their patients' reaction. Ironically, providing "free" CDs to their patients is actually causing more harm than good. Patients we've spoken with would prefer paying a small fee for online access, which is actually valuable to them, rather than receiving the burden accompanied by that free CD. Take this story for example…
Our colleague's wife recently had a scan taken of her knee from an orthopedist. She thought it would be a simple task to get a copy of her image, but quickly realized it would be a process. They didn't provide a copy of the image to her at her appointment. Instead, when she got home she had to print out a form, complete and sign it, write a check for five dollars (what year are we in…?), and mail the form and check in to the doctor's office.
They would then mail her a CD containing a copy of her scan or she could come in to pick it up. This meant she could wait several days to receive a CD, which she couldn't even load into her computer because, like most computers today, it doesn't have a CD drive. Alternatively, she could choose to drive across town in the Chicago winter weather, pay a pretty penny for parking and pick up that useless CD herself. Annoyed, she decided that was the last time she would see that orthopedist. The search began for a new doctor who would provide an easier way to get a copy of her own scan.
Patients are more than willing to pay for an alternative option that doesn't cause them this kind of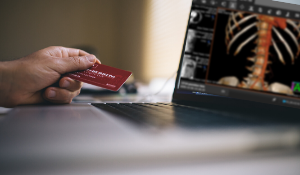 inconvenience. This isn't just our opinion; we asked patients around the country for their input. The response was overwhelmingly in favor of ditching CDs. Patients were more than happy with the idea that for a small fee, they could have access to view and share their images anywhere and anytime from any device with an internet browser, including their smartphones. Many mentioned what a hassle it was to have to keep track of their CDs over the years and remember to bring them to an appointment. It would be so much easier to just pull it up on a phone, they said.
We specifically asked if they would be willing to pay $6.50 for this service, the safe harbor fee that the Health Insurance Portability and Accountability Act (HIPAA) prescribes in United States federal regulations. Many patients told us they would pay much more for the convenience of not having to travel to pick up discs from their doctors' office. We didn't even have to ask our colleague's wife – she left us with no doubt how she feels about it after recounting her experience.
Healthcare providers may feel like they're "nickel-and-diming" their patients, but in reality, they're offering a valuable service for which patients would gladly pay a small fee. As long as providers are transparent with their billing (no one likes a surprise invoice!), patients will be more satisfied by this service than they would with an unreliable CD.
You will see your patient satisfaction rate soar when you give your patients the option to access their medical images on their own cell phones, in the comfort of their own homes, while on the go, or at a physician's office right when they need them. Who doesn't love the convenience of mobile access? With this option, patients will appreciate that they no longer have the burden of storing and keeping track of multiple imaging CDs. They'll always be able to access their images whenever and wherever they need to, which is especially valuable if they ever require medical care while out of town.
Sharing images with referring physicians, specialists or out-of-town doctors becomes much easier for everyone involved. No more delayed appointments due to forgotten or lost CDs or waiting for a CD to arrive by mail. Instead, patients can simply click a button on their cell phone or laptop and send a link to their physician to access the image. Plus, the receiving physicians will appreciate the ease having the image in advance of the patients' visit, saving time in their busy schedules.
Perhaps most importantly, offering this service actually saves you and your patients money. If the patient loses or forgets a CD, they may have to have another scan taken which costs a lot more than $6.50. Alternatively, they may come to you for another copy, which doubles your initial cost for that "free" CD. Online access eliminates these additional costs, as well as the material and labor costs incurred by CDs in the first place.
We now know that patients would much prefer to pay a $6.50 fee to avoid all this hassle. Add to that the cost savings to your practice and you too will start to believe that the time has come to charge your patients for online access to their medical images!