Last week I had the pleasure to attend the Rock Health Summit in San Francisco. From the summit panelists to conversations with other attendees, one opinion remained unanimous: there is a great need for better health information delivery.
The Summit was the 8th Annual meeting held by Rock Health, a Venture Capital Fund focused entirely on digital health. The meeting took place on the University of California San Francisco campus. The attendees included more than 800 professionals interested in the topic of digital health. The day-and-a-half summit comprised a continuous educational forum along with plenty of opportunities to network, as well as fun evening events, usually lubricated by some adult beverages.
Presentation topics ranged from social issues around serving our aging population and overcoming racial and income bias, to drug discovery and handling of chronic diseases.
The most valuable topic, at least from Purview's perspective, was hearing from the various panelists that there still is much "janitorial work" to be handled - meaning the solutions required to deliver health information, especially medical imaging, where it is needed, how it is needed, and presented on an appropriate media.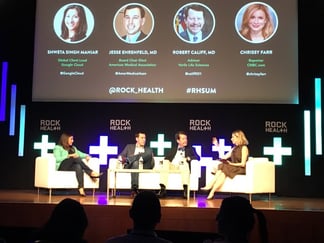 For one thing, the panelists mentioned a recurring issue where patients don't even know where their images are being stored or how to access them to share with physicians. Even if they do have a CD copy of their images, that can still pose a problem for the patient if they want to view them on their own computer and even for their physician.
Jesse M. Ehrenfeld, MD, Chair of the American Medical Association, recounted a time when he was in the operating theatre and an assistant handed him a CD containing the patient's image. Unfortunately, there was no CD player available on any device in the room on which he would view the image.
Other panelists decried the industry for not providing better solutions than CDs for imaging delivery and faxes for the delivery of patient records. Philip Poley, Public Sector Health Industry Strategy Lead at Accenture, talked about an incident, which is more common than you'd think, of having patient records faxed between floors of the same company that employed two different versions of the same EHR system that were otherwise incompatible.
Another topic discussed was brand new to me, or so I thought. It took me a while, but I finally began to understand what people are defining as "digital therapeutics." Coming into the session, I assumed they meant some kind of high-tech pill that one swallowed which provided digital images and data of one's vital organs. Instead, I realized this was a much more mundane description of software driving a process to prevent, manage, or treat a disease. This might be as simple as regular nagging of a patient to stay on their plan or as complex as using big data to analyze a medical condition.
Overall, I left the summit encouraged at the progress we seem to be making in using technology to avoid or treat disease, and that we are at least sensitive to the fact that using technology may not be a smooth or discrimination-free process. We do still have that plumbing to fix – to make sure that the data we so carefully capture is available to help us diagnose and treat diseases in a more efficient manner.