How an Urgent Care Chain Improved their Business by Providing Patient Access to Medical Images
Written By: Tilden Bowditch |

Righttime Medical Care provides urgent care for patients through more than 17 locations throughout Maryland, as well as through telehealth services. Frequently, patients visiting a Righttime facility require an x-ray of an extremity such as a potentially fractured wrist or a broken ankle. Righttime operates a mini C-arm to capture these images and can provide a copy to the patient so he or she can then take the image to their physician or a specialist for further treatment. For years, Righttime delivered these images to patients as printed film. "The radiologists hated us for sending that over because they couldn't see enough to make a diagnosis," said Dr. Robert Graw, CEO and founder of Righttime Medical Care, during a webinar with Purview.
Righttime knew they needed to make a change in the way they delivered patient's images. They started looking for a better way to provide access to diagnostic-quality images for patients and their care providers. When he heard about Purview, Graw said it sounded like a wonderful way to easily provide images to patients and their families, as well as the radiologists, hospitals or specialists who needed immediate access and a high-quality view for diagnosis.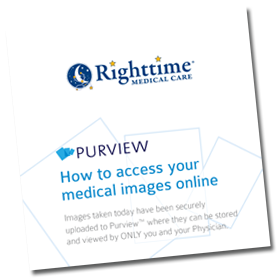 Purview provided Righttime's patients with a way to access their images through the internet along with an embedded diagnostic-quality viewing environment. Each Righttime patient who had a medical image taken receives a personalized patient access code enabling them to view their images online anywhere, anytime and on any computer, tablet or even smartphone. They can also provide this code to their physician or specialist who can also login and have immediate access to the images.
Having these medical images digitally available enables patients to get their images no matter the time of day or their location. For an urgent care facility, this is especially helpful when a concerned patient comes in with a possibly fractured wrist late at night, for example. The patient and his or her physician can now immediately access their images to accelerate treatment, no matter where or when they need them, without impediment.
Purview manages the entire operation once a scan is completed, leaving the already busy front desk to focus on patient care. Patients who need assistance call the Purview hotline directly to help them access or navigate the system.
Now that Righttime is able to engage with its patients in a new, more immediate and innovative way, Righttime has become even that much more of a go-to urgent care facility for an increasing number of patients. Most urgent care patients typically consult with specialists if they are managing an issue, and those specialists need immediate and diagnostic-quality access to imaging studies. As Graw said, "Purview makes that possible."
To learn more about how Purview's solutions can help with your organization's specific needs, please contact us or email sales@purview.net.