This month marks the 118th anniversary of the first X-ray. The history of radiology began in 1895 when a German physicist, named Wilhelm Conrad Roentgen, discovered what he called a "new kind of ray."
He found that these rays could pass through human tissue but not bones and metal. One of his first experiments was taking an X- ray of his wife's hand, as seen below.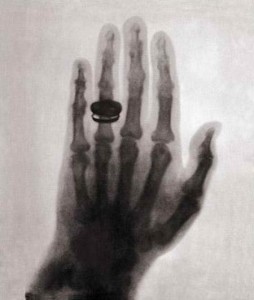 Since these early X-rays, there have been many milestones in the field of radiology, including:
1942: First recorded use of ultrasound for medical diagnosis
1971: First CT scan is taken at Atkinson Morley's Hospital, in London, England
1977: First full body, human MRI image taken
1970's: Use of real time ultrasound makes it the common practice for medical diagnosis
While medical imaging technology has greatly advanced in 118 years, the ways in which we interact with those images has remained largely unchanged.
Most patients still carry around bulky files of their images from doctor to doctor with the risk of getting lost or damaged.
With Purview, patients can easily store and share their medical images online. Patients and doctors all over the country can then access these digital images at anytime.
Direct access and control to digital medical images is the next evolution in radiology. We're revolutionizing the industry in ways Wilhelm Roentgen couldn't possibly imagine.
Video Transcription
This month marks the 118th anniversary of the first X-ray being taken. Certainly, we have come a long way in 118 years. We have CT scanners, MRI scanners. Those imagining modalities capture hundreds of medical images during a given procedure. Doctors are able to look at those images in 2D and in 3D. They are able to look at them from anywhere.
What hasn't changed is how patients engage with those medical images. Patients still carry a sheet of film from doctor to doctor. Typically, doctors look at those sheets of film on a light box and the patient is told to go home and store them between their box spring and their mattress.
Purview is trying to take medical imaging to the next level. We are trying to democratize health care for patients. We are trying to make health records portable and accessible. So that X-ray that you only had one copy of 118 years ago, or even last week, now you have a digital copy in the cloud that you can easily share with health care providers anywhere, anytime.