RSNA 2017: AI, Machine Learning, and Cloud Enablement
Written By: Josh DeBartolo |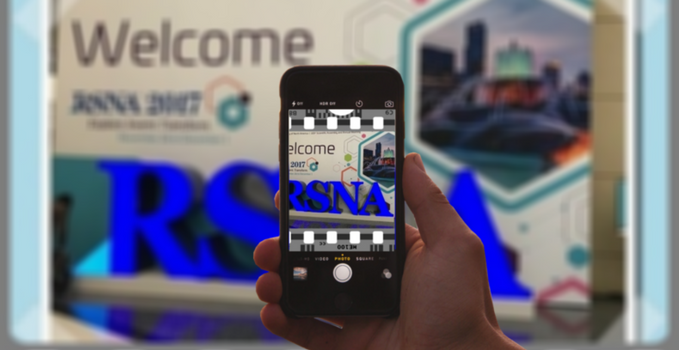 Every year before the Thanksgiving turkey has even settled, tens of thousands of medical professionals descend on Chicago's McCormick Place for the largest radiology conference in the world. If you have never been to the annual Radiology Society of North America (RSNA) event, it is a sight to behold. Turn after turn, you run into extravagant booths highlighting cutting edge technology with live demonstrations aimed at catching your attention. While one vendor had a waterfall with the droplets forming their logo, another let you try on a set of augmented reality goggles, promising to be the future of surgery. And of course there was the host of shirtless men receiving live ultrasounds. Overall, RSNA is sensory overload. That's why we at Purview try to keep things in perspective and remember that the most valuable aspect of RSNA is the people.
With over 55,000 people from all over the world in attendance this year alone, we find RSNA to be the perfect time to schedule meetings with our customers and friends we might not otherwise see as frequently. For instance, after flying to Chicago from Maryland this year, I met with our reseller from Japan who introduced me to representatives from Taiwan and Mongolia who are looking for cloud based medical imaging solutions. RSNA makes this type of global convergence possible. It also gives the opportunity to gain a deeper understanding about the business environments in which our local partners are working, such as the information our reseller in Israel shared with me about changes in reimbursement rates in his region.
RSNA is also a good time to keep an eye on industry trends and this year it seemed Artificial Intelligence (AI) and Machine Learning (ML) were the buzz words at center stage. While the value wasn't always clear and many applications seemed to be in their infancy or not yet even begun, most vendors still felt the need to pontificate around how their platform would be leveraging AI and ML in the future.
That said, a plethora of scholarly papers came out at or around RSNA that point to the value of Artificial Intelligence coupled with diagnostic interpretation and how this can lead to better medical outcomes, less need for reimaging, and predictive and proactive healthcare decisions. However, this research is also in its early stages and often seems to be hindered by relevant data availability and access. For this exact reason, here at Purview we have seen a large uptick in the demand for our cloud-based medical imaging solutions from research facilities, clinical trials, and educational applications. We had numerous meetings with potential clients at RSNA around how they could receive medical imaging data from external contributing practices and collaborate with geographically diverse facilities for the purposes of deep learning review. The time seems to be ripe for this type of application.
As you try to navigate these trends, I find the thoughts Dr. Paul Chang of the University of Chicago shared at RSNA to be particularly enlightening. Dr. Chang stated that the radiology industry is currently in another hype cycle such as we have seen in the past with "electronic medical records", "PACS", "big data", and the "cloud". In each case, the hype often promises to revolutionize the industry by leapfrogging to the most extreme cases, such as replacing radiologists entirely. This is where the industry and vendors often fail as they bite off more than they can chew. Dr. Chang believes, that the most relevant and promising solutions in this wave of deep learning, machine intelligence and cloud-based decision support applications are those that will find ways to make incremental improvements by picking off low hanging fruit, such as improving efficiency of image acquisition and workflow orchestration.
Final Thought
Overall RSNA is always a worthwhile event, bringing together a global community of professionals around their shared passion for radiology. It's intense, high-energy, overwhelming, and exhilarating. It shows us that this industry is its own living, breathing thing, always progressing, growing and evolving and it's always exciting to watch how we are collectively shaping the future of radiology. To learn more about how Purview can support your clinical, educational, and research data access and accessibility needs please click here to contact us.