If you're a health IT manager struggling to get doctor's to embrace health IT, Kyle Hall is the guy you want in your corner.
"I have a real passion for finding the right technology that makes physicians' jobs easier," explains Hall, who is the telehealth coordinator for The Nebraska Medical Center (TNMC) located in Omaha, NE. "What really hooks me is seeing doctors react to the technology when I demonstrate how simple and effective it is." Hall, who has worked on the frontlines providing PACS support in clinical settings, knows that the road to a successful health IT implementation is delivering what physicians really want and need, while minimizing the impact on IT resources.
TeleHealth Pilot
Recently, Hall combined his clinical experience and technical expertise to design a telehealth pilot using a unique, virtual imaging platform created from iPads, ResolutionMD's enterprise image-viewing software and cloud technology from Purview. The pilot, run in partnership with a rural hospital located more than 100 miles away, provided stroke specialists at TNMC with remote, mobile access to patient's stroke images.
Hall's pilot is part of TNMC's broader telehealth initiative to provide the state's mostly rural population with access to high-quality care. For radiologists and other specialists, remote access to patient images is critical because more than 75 percent of imaging procedures take place outside a hospital setting. [1]
When it comes to stroke care this mobile image access can mean the difference between life and death. At TNMC, stroke neurosurgeons are able to very quickly identify those cases needing immediate intervention and transfer to higher levels of care. In contrast immediate transfer can also be avoided when the patient will not benefit from emergent surgical intervention. This allows rural and community hospitals to keep patients locally and eases the burden on the patient and family.
Yet, even with its proven impact, telestroke's adoption rate is only 6 percent, in part because many of its implementations, put in place almost 20 years ago, use fixed terminals and fixed communications lines, a far cry from the mobile, wireless world in which today's doctors and patients live and work. With its pilot, TNMC implemented ResolutionMD's proven framework on a modern, mobile, forward focused platform to test the integration of mobile in a scalable solution.
TeleHealth Pilot Results
The pilot's resulting metrics were impressive. In 50 plus exams, image transmissions from the cloud-based server to the iPad tablet were viewable with no compatibility issues. The providers in the pilot described the images as "excellent," according to Hall's presentation on the pilot results. The system has 100 percent uptime and not a single byte of personal health information was transferred to the tablet at any time, making the entire system fully HIPPA-compliant. There is tremendous value in zero footprint systems. Not having to transmit personal health information to the device substantially reduces the access time, while providing the most secure method of access.
The IT footprint of the pilot's technology is lightweight and virtually support-free. Physicians self-administer the image-viewing software on the iPad and the cloud-based virtual image server has no installation needs. The piloted system also saves money: Calculations by Hall showed that using a "thin client," such as an iPad, instead of a "thick client," or laptop, results in 75 percent savings in support and software costs over a 4-year period.
Results on download speeds for Purview (powered by ResolutionMD®), the cloud-based virtual image service used in the pilot, were faster than using a teleradiology client on an iPad (Aycan Mobile), another cloud-based imaging solution (MIM Software) and a virtual private network (VPN).
Imaging Solutions Compared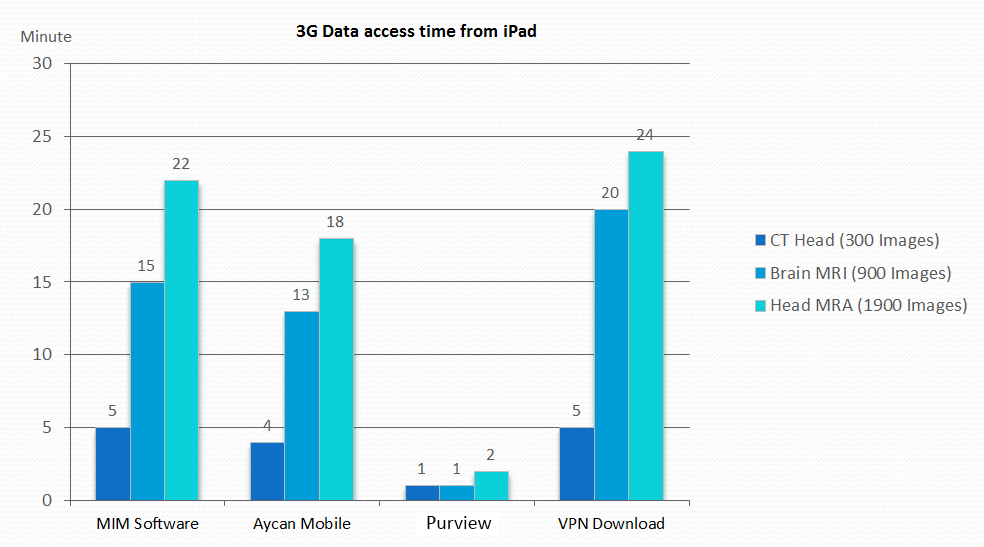 But perhaps most importantly, giving pilot participants quick, mobile access to diagnostic images showed them how it can help provide quality, patient-centered care.
"This [system] gives me fast access to critical information anywhere I am, increases the level of patient care and gives me the tools to do my job more effectively," said William Thorell, MD, one of TNMC stroke specialists and a pilot participants.
"Doctors aren't chained to their computers anymore and now can quickly and securely access time sensitive information from anywhere at any time with their mobile devices," explains Hall.
"The doctors are happy, because they have the mobile tools to help provide the best care possible"
Source:
[1] Bolan, Christian. Cloud PACS and mobile apps reinvent radiology workflow. Applied Radiology: The Journal of Practical Medical Imaging and Management, May15, 2013.
This blog was reposted from our partners at Calgary Scientific. Written by Greg Girard, Director of Product Management - HealthCare.