By now you are likely familiar with ransomware and have heard horror stories that it is creating for healthcare organizations. If you read our recent blog, Medstar's IT systems were held ransom for $19,000 and Hollywood Presbyterian paid $17,000 to have their data released. Despite these recent events, you might believe these hosptials are unique and it wouldn't happen to me!

A new Ponemon survey revealed that of the hospitals surveyed, 91% suffered from healthcare data breaches. Of that, 50% of the healthcare data beaches were caused by criminal cyberattacks.


"The healthcare industry is viewed as a soft target, the perfect storm for insecurity and an opportunity for cybercriminals" says Larry Ponemon who conducted the survey. With so many attacks in 2016, it's only a matter of time until your organization is faced with a debilitating data breach.

The most devastating aspect of a breach is the cost. According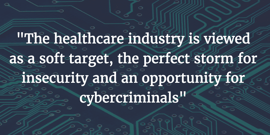 to the Ponemon report, the average cost of a data breach to healthcare organizations was more than $2.2 million. Then you have to factor in the amount of time you won't have access to the data and the time to recover the data. It could take days or weeks. If you're like most hospitals, you don't have $2.2 million or days and weeks to spare.

So how do you prevent your organization from falling victim to ransomware? Purview ViVA is an effective way to backup medical imaging data for immediate access to your most recent studies even if all your IT systems are not working. Purview ViVA seamlessly streams your medical images over the cloud. This solution makes your images available from any web browser, smartphone, or tablet, regardless of a ransomware attack, data breach, or system malfunction.
Spare your healthcare organization the cost of ransomware.
---
Click to watch the Ransomware Dilema Webinar!