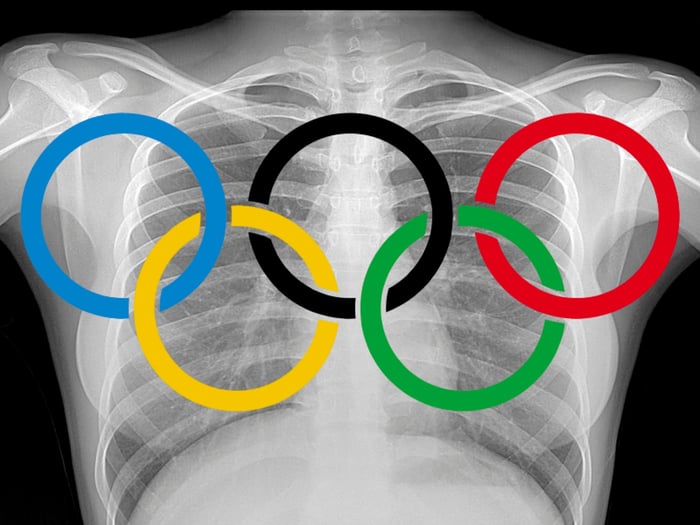 Olympic Imaging Facility Swarmed by Athletes from Developing Countries
With over 10,500 athletes competing in the 2016 Olympic games, injuries were expected but the influx of visits to the Olympic Village Polyclinic for non-injury related cases has been surprising. When we typically think of athletes in the Olympics, images of Michael Phelps winning the 200m butterfly or Usain Bolt besting Justin Gatlin for gold come to mind. But not every Olympian is a Phelps or Bolt, bringing in millions of dollars in lucrative endorsement deals with access to the best medical care and treatment in the world.
For athletes from many developing countries, the state-of-the-art medical equipment and facilities at the Rio Olympics represents a departure from the norm. Athletes from all 206 countries represented at this year's event, as well as members of their team who train and care for the Olympians, have access to medical care at the Olympic Village Polyclinic. The patronage to the clinic so far has shown a clear trend of treatment for non-Olympics related conditions.
Over 1,000 dental checks performed
Over 450 dental X-rays administered
Over 1,700 eye exams
Over 1,400 sets of glasses prescribed
Over 60 MRI scans performed each day
The Olympics medical imaging MRI suite at the clinic has been particularly well trafficked because GE Healthcare equipped the facility with advanced technologies including MRI, X-Ray, and ultrasound machines.
GE Healthcare's Daurio Speranzini Jr. noted that in reference to advanced medical imaging technology, "Those athletes from emerging countries, they really need it." He stated that in many developing countries, access to the kind of technology found in the Olympic Village Polyclinic is unavailable.
As a result, the bar was set very low for deciding whether to administer a diagnostic imaging test, such as an MRI, for an athlete complaining of long-term or chronic pain, understanding that this might be the only time they have access to such advanced technologies.
Implications for Global Access to Medical Imaging
While the polyclinic has offered a much-needed respite for many athletes and their trainers, it brings to light the larger issue of patient access to medical imaging around the world. Globally, the World Health Organization (WHO) reports that nearly two-thirds of the world's population does not have access to diagnostic imaging. With over 7 billion individuals in the world, this means that over 4 billion people lack access to medical imaging and thus do not have the ability to obtain an X-ray, ultrasound, or MRI when needed. WHO also reports that between 70-80% of all diagnostic problems could be resolved through the basic use of X-rays or ultrasounds, thus confirming the essential value of medical imaging for patient care.
So how do we combat this disparity and make medical imaging available not just to a handful of athletes in the Olympics, but also to the over 4 billion people globally who need such access?
The answer begins with the ability to view, access, store, and share medical images through the cloud. An historic limiting factor to the global dispersion of diagnostic imaging machines in developing countries has been the limited availability of qualified doctors and radiologists to read and interpret images on-site. With the advent of cloud-enabled medical image sharing, physicians no longer have to physically be on-site to review radiological films but can rather interpret an image over the Internet from any computer in the world. While this does not address the cost of the imaging modalities themselves, removing the physical need for a radiologist to be present is the first step toward providing access to billions globally who could benefit from diagnostic imaging.
So next time you see Michael Phelps or another athlete race to glory, remember that the goal of the Olympics is to connect the world through the solidarity of a common purpose. That purpose is to create a more peaceful and better world, which is only possible when all individuals are provided basic human rights, including access to sufficient medical care. Only then can we stand on the podium together as global citizens of a united world.
--
For more information on cloud-based medical imaging access: