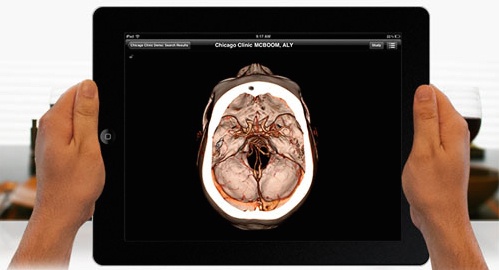 Neurologists know that the hour immediately following the onset of stroke symptoms – often called the golden hour – is critical to successful treatment. Stroke patients have a much greater chance of surviving and avoiding long-term brain damage if they receive treatment within an hour.
The criticality of ensuring that neurologists are prepared to take action in this short time window requires that examination and diagnosis occur as quickly as possible. This often involves interrupting a radiologist who is away from his or her office to read an emergency brain scan. Telestroke, as it is commonly referred to, is now widely accepted as the appropriate standard of care.
Medical imaging has responded to these life-threatening situations with advanced function medical viewing systems that operate on tablets or smart phones. These devices enable physicians to review emergency scans whenever and wherever they are available. They make it convenient for physicians to review images when they are away from their offices.
But are these handheld systems capable of performing such a critical function?
Mobile Devices are as Accurate as PACS Workstations for Diagnosis
According to peer-reviewed research published in Neurology, The Official Journal of the American Academy of Neurology, stroke diagnosis on mobile devices is at least as effective as diagnosis using PACS workstations. The study focused on assessing agreement in interpretation of CT head scans using iPads, iPhones, and PACS workstations. Specifically, the viewing software used on the phones and pads was Calgary's ResolutionMD. Sixteen neurologists, emergency physicians and radiologists participated in the study.
The study went on to compare the accuracy of interpretation among neurologists-in-training and found excellent sensitivity for identification of acute ischemic stroke. More studies were recommended for comparison with a broad array of images for traditional PACS interpretation.
This is great news for stroke patients. Radiologists can consult with Neurologists without regard for geography. They can collaborate in real time while viewing these images and rendering diagnosis and recommendations for treatment. They can access images on their iPhones, iPads, and Android devices. By removing the delay associated with physicians having to reach their PACS workstations to make the initial diagnosis, neurologists can be prepared to treat stroke patients in the time required.
Neurology mobile medical image access can enable the diagnosis of more stroke patients during the golden hour and can will save more lives.