How Purview Partners Make More By Doing Less

Written By: P. Varma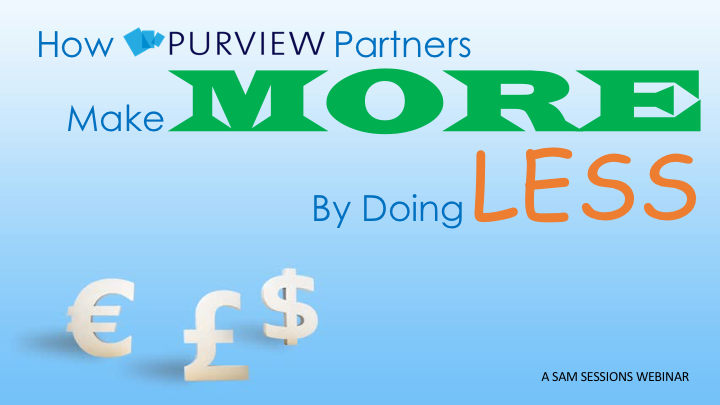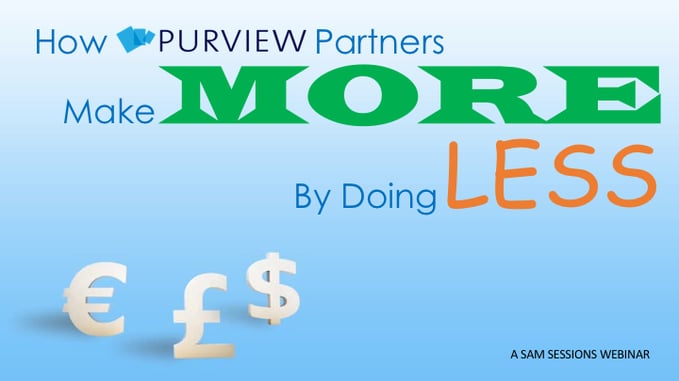 We all know that for the most part, partnerships imply that all parties involved agree to cooperate in order to advance their mutual interests. To put it in biological terms: it's a mutualistic relationship, like that of bees and flowers. Consider Purview the flower to your bee. We are here to support our partners and assist them in their journey. Besides we have something others in the industry lack. We have SAM: the ability to share, access and go mobile with medical and veterinary images.
What Kind Of Partner Do You Want To Be?
Resellers & Referral Partners.
Resellers will sell Purview solutions to end user customers while Referral partners will refer end user customer to us. In fact, our Referral Partner, Epica is a great example. The folks over at Epica make amazing modalities and want to offer their consumers a well rounded product. Our relationship is as such that if they have a client in the market for a Cloud based solution that will integrate with their current workflow to enable SAM, Epica lets us know. We contact the prospect, handle the training, onboarding, and deal with the entire software aspect of the transaction. As a referral or reseller partner, you literally just let us know about a client of yours that is interested and we take it from there. Greg Stoutenburgh, the CEO and Founder of Epica discusses this relationship at the 4:03 mark in our webinar, "How Purview Partners Make More By Doing Less".
OEM or Original Equipment Manufacturer.
These are the partners that integrate Purview products into their offerings. Basically, they resell Purview products under their own name and branding. A great example is VitusVet. By teaming up with Purview as an OEM Partner, they use our web based viewer with their branding to ensure that both veterinarians and pet parents are getting SAM. Want to hear Kalpesh Raval, CTO and Co-Founder of VitusVet discuss his OEM Partner experience? Click here. He's at the 12:33 mark in our webinar.
MSPs or Managed Services Providers, and Consultants.
They will include a Purview solution as a component of their overall service offering. Jay Strickland, the CEO and Co-Founder of Strategic Solutions of Virginia discusses having the ability to add Purview Solutions to their pre-existing offerings menu at the 27:26 mark.
Viva Cloud!
Purview ViVA provides a purpose built full function medical image system (with a certified web viewer) that enables access to medical images whenever, wherever, and however they are needed. That means that your clients no longer have to stay after hours to read images. They can do it in the comfort of their home - even on their tablet if they want. They aren't restricted to a specific platform like Windows or Mac. Additionally, they no longer have to use archaic methods of sharing images. That's right, no more CDs, DVDs, and the headaches (not to mention costs) that go into burning the images and parceling them. Instead of waiting for overnight shipments, your clients can simply click a button, and in moments, those images are shared with the recipient through secure channels via the Cloud.
The Purview Partners Package
We feel that transparency is important when forging a relationship with partners and clients. It enables expectations as well as communication. We try our best to cater to you and your end consumer's needs. That being said, along with marketing access to over 60,000 qualified subscribers and depending on the type of partnership you decide to choose, we offer:
White label available content

Logos, blogs, white papers, slicks, and any other customized that we collaborate on together.
We also offer support. Again, all of this is customizable, but we offer you the ability to offer support to your own clients...or if you'd rather, we take that responsibility. We can take on any or all of the following roles:
Joint sales calls

Onboarding

Training the trainer

Customer support integration

Escalation paths and priority access
Purview is never a competitor to its partners. Our role in the partnership is to provide you as a Reseller, Referral, OEM, MSP or Consulting Partner the tools your need to make your business more money by offering your clients what they need. We feel that our price point is one that partners can appreciate and mark up as they desire. Our role is to assist you in leveraging your own product.
Final Thought
Overall, a partnership with Purview will get you more money by doing less because you will have SAM. Remember, our partnership programs are designed around you. Our goal is to focus on what we do best - medical image management - and provide this to you in a seamless easy to integrate format to enable us to deliver a much richer combined solution together. That way you can continue to do what you do best. Check out our webinar that features 3 awesome guest speakers from Epica, VitusVet, and SSVA. Each of which are industry thought leaders. Or contact us if you want to learn more about what a partnership with Purview could do for your business!