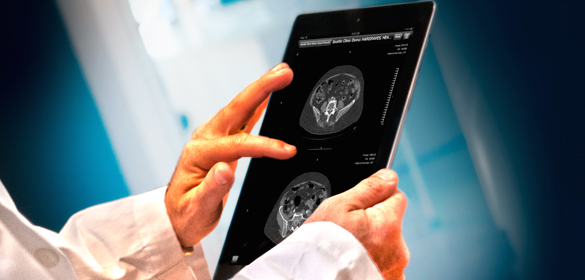 Doctors love their iPads and iPhones. In fact, more than half of the doctors surveyed in a recent Manhattan Research study report using a tablet regularly for professional purposes – especially in point of care situations involving patients. In total, 87% of doctors use a tablet or smart phone in the workplace. This naturally has many physicians asking, "How do I view medical images on my iPad or iPhone?" Well, the short answer is, "with a cloud PACS."
The Value of Mobile Access to Medical Imaging
Most health care information has moved from paper to electronic bits. With the wide scale adoption of electronic health records (EHR), digital patient information is now readily available to an appropriately provisioned mobile device. Rather than leave the patient's bedside to review a patient's charts, almost everything a doctor needs can be summoned electronically in real time on an iPad – including recent scans. By alleviating the time required to head back to a desktop PC to review a patient record, more time can be allotted to a patient face-to-face consult – a very positive result from recent technology advances.
Doctors have also begun using the iPad to communicate with patients. Apple iPads and Android devices enable doctors to more graphically explain ailments, as well as diagnosis and treatment options, by illustrating these right on a tablet at the patient's bedside. Doctors also are using mobile tools to engage virtually with their patients more often through the use of online portals or video chats or conferences.
At a hospital, in many cases the iPad has replaced a clipboard full of papers. Its size and weight is easier to carry and the information capacity of a tablet far exceeds a reasonable stack of paper. The advantage of updating an electronic patient record instead of a written page on a clipboard, is that the information can be shared with anyone treating the patient without them having to be at the patient's bedside.
Both tablets and smart phones, are available to doctors while they are in a health care facility as well as when they are on their own time. When emergency situations occur, being able to view patient data right on a device they happen to have with them, materially improves physician responsiveness.
Cloud PACS Enable iPad and iPhone Clinical Use
The medical imaging industry has taken note of physicians' affinity for tablets and smart phones. As more PACS move to the cloud, it becomes easier for physicians to access a complete image study on a mobile device like an iPad or iPhone. The cloud also lowers the barriers to sharing images among physicians or even with patients directly.
There now are full-featured image viewers available, some even FDA approved for primary diagnosis, on both tablets and smart phones. By connecting these devices via WIFI to an Internet-enabled PACS, doctors can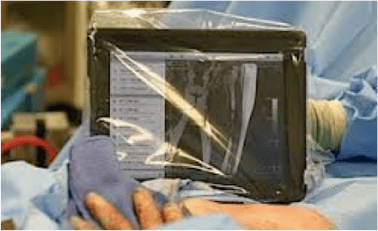 review medical images whenever and wherever they happen to be. This functionality is also now more accessible than ever as cloud PACS cost less than you might think.
Surgeons have even come up with innovative ways to carry iPads into the operating room in sterilized containers or bags, to ensure they have a way to access the images they need while performing surgery.
These new mobile devices are clearly poised to permanently alter the relationship between doctors and their patients. And while some recent technological innovations – like doctors taking the time to enter patient information during and exam – have detracted from the more personal physician/patient interaction, mobile devices have the potential to do just the opposite. With the ability to view and discuss the scan you just had, side-by side with your doctor, medical image access on your mobile device could be just what the doctor ordered.
----------------------------------------------------------------------------------------------------------------------
If you'd like to see a demo of mobile access to medical images via iPad, iPhone, Android
or any other device, watch this short video: