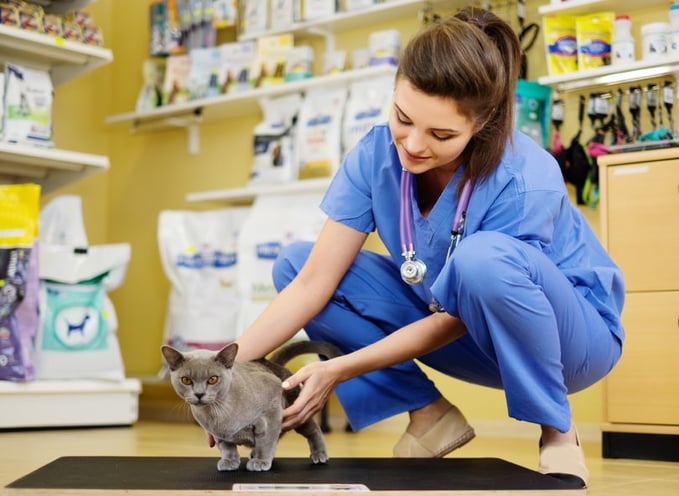 If you run a veterinary practice, you are often called upon to be a jack of all trades. If you are like many practices, you might not generate a high enough volume of scans to justify employing a full-time radiologist to analyze the images generated by your medical imaging technology. As a result, you probably do these reads yourself or rely on other generalist veterinarians to conduct the analysis and come up with diagnoses for the beloved family pets you see each day.
That isn't a problem in straightforward cases. When the situation is more complicated, however, you may need the opinion of a specialist to allow you to make a more accurate diagnosis.
For those veterinary practices that require access to specialist radiologists, but don't have the resources to employ one full time, there are "teleradiologist" services that can give you access to specialized radiologists when you need them. That said, it only makes sense to use a remote radiology service if you can deliver your studies electronically.
These veterinary teleradiologists receive images and examine them on behalf of your practice. This gives you the benefit of their expertise without forcing you to take on the costs associated with employing a full-time specialist.
The following tips explain what you can expect from a veterinary teleradiologist service and can help organize your practice to effectively use this type of service. You can also use this advice to ensure that you always have access to the radiological expertise you require when you need it.
1. You Need Your Studies Electronically Available
We are always surprised to learn that there are still vets (and physicians) using analog imaging tools. While analog works fine as a diagnosis tool, it is cumbersome to store and share studies that aren't composed of electronic bits. If remote reads are in your future, you should first consider upgrading to digital imaging.
2. Establish your Connections
With the ubiquitous connections of the internet, there are numerous teleradiologist options available with whom you can connect electronically. So where should you start? Selecting a particular teleradiologist based on your comfort level with their skill set and fee structure is a great place to begin.
Next, you need to confirm you have a way for your teleradiologist of choice to gain access to your studies and for you to see the results. Depending on your particular use case, using email, Dropbox or a similar file-sharing environment may be sufficient for veterinarians managing x-rays or other simple studies.
You may be better served, however, using a purpose-built, cloud-based picture archiving and communication system (PACS) for larger or complex studies, so that you and your teleradiologist can access the same PACS concurrently in the cloud. Additionally, using a cloud PACS can help in managing who has access to your images, a particular downfall of email and file-sharing services like Dropbox.
Remember, studies shared using a file-sharing service or across email are not confidential and may not be appropriate for those high-value animals or sensitive cases, where the health conditions of a particular patient should be protected.
3. A Portfolio of Experts Is Better Than One
If your operations include emergency and after business hours services, you probably need more than a single connection to one teleradiologist. In those situations you should be able to direct your Stat studies to a pool of radiologists who can act more quickly and during off hours to provide you with their reports. Often you can build in a workflow that escalates and reassigns studies to other available radiologists if they are not read within a prescribed period of time. Night owl services exist, frequently in other time zones, to handle your off hour radiology needs.
If using a single telerad, you should be prepared for those times when that individual might not be available when you need a study read. For urgent situations, your system should enable you to automatically direct your studies to someone else with the right skills, who can help you immediately.
Of course, there are always special cases that require specialist interpretation. Having a way to electronically escalate and route these images to a particular specialist can avoid headaches in the situations that warrant these resources. With teleradiology services, you can take advantage of the skills of these specialists to provide the best possible care to your pet patients.
4. Use Technology for Sharing and Collaboration
Teleradiologists must not only have the ability to share their reports with each other and with you, that process should also occur seamlessly and electronically. Ideally, it should also be possible for radiologists to collaborate with you on your cases in real time to help you understand the results of a complex scan, something not possible if relying on a file-sharing service or email.
Access the Expertise You Need
Veterinary teleradiologists can provide you with access to a lot more expertise and resources than most veterinarians have locally available. With a flexible system and specialized radiologists at your disposal, you will always have the expertise you need on-hand, no matter what time of day or night an emergency situation occurs.