ANNAPOLIS, Maryland - January 30, 2017 - Purview has been selected for the 2016 Best of Annapolis Award in the Health & Medical category by the Annapolis Award Program for the second year in a row. The purpose of the program is to identify businesses in the Annapolis area which they believe have achieved exceptional success. This success is measured not only by the level of involvement in the local community, but also the impact the business has made in its corresponding category. These are local companies that enhance the positive image of small businesses through service to their customers and their community. These exceptional businesses help make the Annapolis area a great place to live, work and play.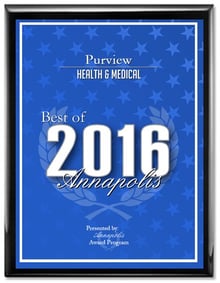 Various sources of information were gathered and analyzed to choose the winners of each category. The 2016 Annapolis Award Program focuses on quality of service provided. The category winners are determined based off the information gathered internally by the Annapolis Award Program and the data provided by third parties.
"We are excited to be acknowledged for a second year in a row for the hard work our team puts in for our clients," said Les Trachtman, Managing Director of Purview. "Our mission of improving medical outcomes is what drives us each and every day. We are honored to be recognized for our positive impact in our sector and our community."
About Annapolis Award Program
The Annapolis Award Program is an annual awards program honoring the achievements and accomplishments of local businesses throughout the Annapolis area. Recognition is given to those companies that have shown the ability to use their best practices and implemented programs to generate competitive advantages and long-term value. The Annapolis Award Program was established to recognize the best of local businesses in our community. Our organization works exclusively with local business owners, trade groups, professional associations and other business advertising and marketing groups. Our mission is to recognize the small business community's contributions to the U.S. economy.
SOURCE: Annapolis Award Program
About Purview
Purview is an Annapolis, MD-based technology company focused on disrupting the medical image industry by enabling enhanced access to medical imaging studies for physicians and patients. Purview facilitates viewing, access, archive, and sharing of medical images such as x-rays, MRIs and CT scans, anywhere, anytime on any device. Purview's mission is to improve medical outcomes by integrating these images with the patient's electronic medical record.
###
FOR MORE INFORMATION: