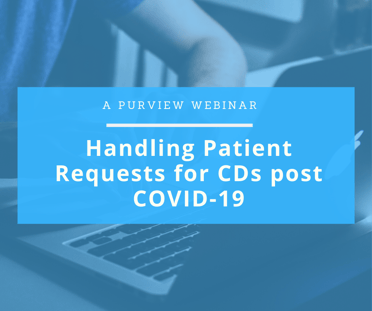 Join us for a webinar on
Thursday, May 28th at 12:00 pm (EDT/GMT-4)
COVID-19 has changed everything.
In a world where our interactions are now defined by social distancing, staffing is constrained and our finances are stretched to their limit, we need to find new ways to give our patients access to their images without unnecessary contact (read: without CDs).
According to a study done by the Journal of Digital Imaging prior to COVID-19, patient-physician relationships can be negatively impacted by the challenges related to image accessibility. Now that most patients would like to limit contact, being a provider that has a mobile app that allows patients to view their medical images right on their phone is more important than ever.
Learn how your patients can take control of their medical images with Purview Patient Access by registering today!
Q. Who can benefit from this webinar?
A. Any imaging center, whether independent or apart of a large health system, that spends too much time and money processing CDs for patients and referring physicians. It could also be useful for anyone interested in empowering their patients by giving them greater control and mobility of their medical images.