Hi, I'm Kai Rivera, Project & Implementation Specialist at Purview.
We're doing something a bit different today by including a short video in this blog, to talk about Purview Telehealth services that healthcare providers can use free of charge during the coronavirus pandemic.
If you have two minutes to spare, please watch the video above to learn more about what Purview is doing to support medical professionals like you during this COVID-19 pandemic.
As you may know, our mission is to improve medical outcomes by enabling collaboration, access and sharing of critical diagnostic information whenever and wherever it is needed. We take great pride and responsibility in serving that mission.
As the world battles this virus, Purview is committed to supporting those on the front lines by offering Telehealth services and solutions free of charge.
The first service we created is free of charge Electronic Medical Image Sharing.
This service aims to minimize direct contact between patients and physicians and reduce the burden on already overwhelmed healthcare systems by sharing medical images electronically.
This may be used by patients to share studies with physicians, by physicians to share studies with patients, or even with physicians sharing studies with other physicians.
For institutions on the front lines, we realized that sharing images one by one wasn't quite enough. So we made the decision a few weeks ago, to offer other full-service products to those providers at no cost.
We are now also offering providers a solution to enable them to avoid burning CDs for patients.
Hospitals and imaging centers can use Patient Access to share images with patients without in-person visits, eliminating the need to burn and deliver CDs to patients. Patients can instead access images on a mobile phone app.
Finally, we are offering our core product, Purview Image, a Cloud-Based Remote Diagnosis Solution.
This product enables radiologists and sub-specialists to remotely perform medical imaging reads, share studies and create and share reports.
Whether you're an individual looking to protect yourself and your family, or you're an institution looking to protect your employees and your patients, Purview can help reduce the burden. Purview can help minimize risk. Purview can help you save money and save lives. Contact us at Purview so we can help.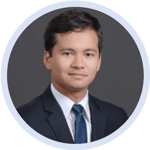 Kai Rivera
Project and Implementation Specialist