Last week, Purview representatives joined thousands of attendees from around the world in Chicago to see, hear and discuss the latest innovations in medical imaging at this year's RSNA - the 105th Scientific Assembly and Annual Meeting of the Radiological Society of North America. It's always interesting to see the newest technology developments that will influence healthcare in the future, but perhaps even more interesting were the trends in innovative solutions that impact healthcare today.
With more than 50,000 attendees, 400 educational courses and 700 vendors, RSNA can be an overwhelming experience for even a seasoned attendee. The experience never fails to deliver a sense of awe and excitement, though. "I love to see all the new technology and different trends that are emerging and how they are helping patients and improving the overall healthcare experience," said Purview's Justin Kaechele. Among the seemingly endless line of vendor booths, it's always incredible to see healthcare professionals and innovators from around the globe
collaborating on ideas that will improve healthcare tomorrow
.
Artificial Intelligence (AI), 3D-Printing and virtual reality gave attendees a glimpse into the future of technology uses in healthcare. While these resources are dazzling in their innovation shiny newness, they are still in the process of maturing to a point of widespread adoption. In the future, these technologies will surely revolutionize healthcare, including medical imaging, as we know it.
One trend that impacts healthcare today was clear: Healthcare professionals are demanding better access and mobility, and the market is responding.
Demand for greater nimbleness and flexibility, which has traditionally been delivered via services and products intended for smaller groups and lighter systems, is growing rapidly among larger healthcare systems. Among the vendors at RSNA, you could see the response to this demand in everything from cloud-based viewers to reporting systems with greater flexibility, and even in the production of modalities that are so lightweight that they could be moved across the room with very little effort.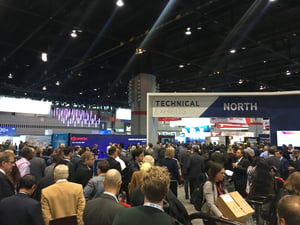 Healthcare professionals, from groups large and small, are requesting ubiquitous access to their studies, and they want to be able to easily login, and get everything they need in one consolidated cloud-based system. "Overall, it seems to me that the larger healthcare systems are wanting the same benefits traditionally reserved for smaller independent groups, and vendors are working hard to scale their solutions to meet those demands," said Kaechele.
It's no secret that the healthcare world is changing. Hospitals and third-party radiologists are no longer looking for the physical hardware.
"Everyone is looking to maneuver to a cloud-based solution for the medical images, which is great for us since that is what our solutions deliver," said Johnny Giuffreda, who also attended RSNA with the Purview team. "Having the ability to share and access medical images from anywhere, at any time, is an essential commodity now."
Having a cloud-based solution that provides remote access to a patient's medical images and health information, such as pathology results and medical reports, enables radiologists and hospitals to work more efficiently, benefitting both the patient and the provider.
This flexibility and nimbleness is the norm for today's healthcare market, as could be seen at RSNA. If a healthcare facility doesn't have a cloud-based solution that enables this for their physicians and radiologists, they will be left behind as their patients and doctors move on to the many options that do provide these essentials. Luckily, our solutions provide an affordable way to keep up and even stay ahead of the curve with options like Expert View, which enables remote, controlled access to imaging studies and corresponding relevant health information for obtaining an initial diagnosis or second opinion.