I talk with healthcare providers every day about what a pain it is to burn CDs or DVDs for their patients. It's costly, it takes time, and no one (patients, office administrators, and the doctors themselves) likes this outdated, bulky method of delivering images like x-rays or CT scans. Even so, they are reluctant to give up this bad habit.
We often stick with bad habits because they're comfortable. We tell ourselves it's easier to keep doing things the way we've always done them rather than the heavy lift of changing our ways. In reality, it's often much easier than we think, and better for us in the long run, to make a change.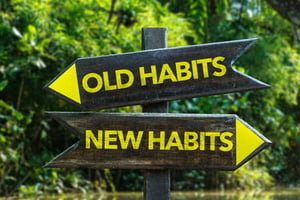 From weight loss to business management, this is true for all aspects of life - especially in regards to how you run your imaging practice.
Admittedly, it is in Purview's interests to convince providers to do away with discs, since we market a solution that enables the electronic sharing of medical images and other diagnostic information. Using the cloud for secure delivery, patients can easily pull up their images on their cell phone rather than having to remember to bring their CD to an appointment.
Our solution is very compelling. There is a clear return on investment and often the provider can obtain our solution for free. Additionally, patients prefer the ease and mobility of having the images accessible via their cell phones, and their referring physicians relish the decrease in delayed appointments due to lost or forgotten CDs. It's a win-win for everyone.
For providers who use Purview's Patient Access, they find it:
Costs less than burning CD/DVDs
Is easier for the patient than transporting a CD or DVD
Can generate incremental revenue to offset all of the provider's costs
The other day I was explaining our alternative to burning CDs to a non-medical professional who responded with: "That's a no-brainer!" In fact, it is. But that doesn't mean it's easy to change the mind of someone who has an outdated entrenched position.
Rather than try to convince someone to change, I will simply list the reasons, along with some personal anecdotes, illustrating why it's finally time to give up burning CDs.
9 Reasons Why You Should Give Up Burning CDs for Your Patients
(and provide mobile access instead)
1. CDs can be lost, stolen, misplaced or forgotten (delaying appointments or necessary treatment as well as being a nuisance for everyone)
My mother-in-law was in town to visit my family and hurt her foot. The pain was enough to require an emergency room visit late Friday evening. After several hours, she was released with a CD in hand and a diagnosis of a broken bone. Everyone agreed that she would need to see her orthopedist when she returned home. Though the hospital we had visited was modern and well thought of in the community, they had no other option for sharing an imaging study with a patient other than using a CD.
Knowing a bit about the medical imaging business, I asked my mother-in-law if she wanted me to load the image from the CD into the cloud and share it with her doctor electronically. She demurred and thought that it would be just as easy to schedule an appointment and bring the disc with her. Just in case, I downloaded a copy of the image from the CD onto my Horos desktop viewer.
Two days later I got a call from my father-in-law while he was standing in the orthopedist's office. Despite all their good intentions, they had forgotten my mother-in-law's disc. He asked if I could electronically send the image so that they could avoid a second x-ray. Within seconds, the orthopedist was viewing her images. With a simple email containing a secure link, he was able to access the image via the cloud and a web-based viewer. No second x-ray, no delay, no muss, no fuss.
2. Your patient does not have to drive across town to pick up a CD at your office
It's almost always the most inopportune of times when a patient needs a CD. It's often in an emergency or with an imminent physician's visit. I had a friend who received a dire diagnosis after a series of scans. She was immediately admitted to an out of town specialty facility for treatment, but that also meant handling the logistics as quickly as possible. This was a tough time for her as she had to quickly pack up, arrange her household and kids' schedules, and travel out of town. The last thing she needed was the distraction of having to drive around town to her various providers and pick up CDs to bring to her treating facility. I offered to do this for her so she could focus on getting ready to leave. If she could have simply had the images shared electronically, or have them easily accessible on her cell phone, it would have saved her a huge amount of stress and energy at an already difficult time.
3. Most modern computers no longer have CD drives
While I was at a conference in San Francisco earlier this year, a surgeon declared that the current process for sharing images is archaic and ineffective. He noted a recent surgery where the patient brought their disc containing their image, but there was no computer onsite that had a disc drive on which they could view it. The patient was sent for an emergency (duplicate) CT scan, which delayed surgery, cost money and created an inconvenience for all.
4. Physicians struggle with viewing images on the CDs they are given
While visiting with a provider in Albany, NY, I shadowed one of the physicians for half a day to understand their operation firsthand. One of the first patients to come in for an appointment dutifully brought her disc containing her image. The busy doctor tried to load the image with the patient in the examining room, but was unable to effectively open the file and gave up. I ended up loading the image on my laptop viewer to show the physician so that the patient could avoid getting re-imaged and the appointment wouldn't be delayed. Case in point: Physicians - and their patients - don't have time to waste with ineffective, outdated technology.
5. It is expensive to burn CDs
Practices often quote me that CDs are cheap – a disc and an envelope cost less than $2.00! I don't disagree, but this misses the point. The typical CD takes several minutes (10 or more) to burn and label. Staff time is not free (remember the old adage "Time is money"?) Some discs are mailed to patients who request them; some even have to be overnighted. Some result with the wrong information – an embarrassing event and potential HIPAA violation. Some discs simply don't work.
I recently talked with a practice that, unbeknownst to the physician owners, spent $16,000 per year just to ship CDs to patients and referring physicians. With all the practices that we service, we have found that even without shipping costs, the average CD/DVD costs nearly $15.00 to burn. That means that a practice that burns just 5 discs per day expends more than $15,000 in costs to provide those "inexpensive" CDs for their patients.
6. Your patients don't need to be computer savvy.
Sharing an image electronically is much easier than figuring out how to load a CD and use the embedded viewer. Even a Luddite-septuagenarian can press a few buttons on a cell phone to share their image with the physician. There is no need to be computer savvy. You don't even have to have a computer. As long as you have access to an internet browser, even on your cell phone, you can simply login, select the correct image, click share and input your doctor's email address. They receive a secure link and voila. They have your image! With a self-service portal like this, any patient can easily access, view and share their image with their doctor.
7. This can be a FREE alternative for providers!
Our solution can save the provider ALL of the costs of mailing or overnighting discs and two-thirds or more of the cost of burning CDs. For the average practice generating five discs a day, this can save the practice $30,000 per year.
Patients love the convenience of anywhere, anytime access right on their cell phones. Most would be willing to pay for this convenience. Actually, by charging patients a $6.50 fee for perpetual electronic access, the patient no longer needs to worry about storing CDs in a shoebox, and the physician can completely do away with their costs. For these practices our system is completely FREE!
8. Improves the patient experience, inevitably improving the patient-provider relationship.
Our solution enables the patient to access his or her image right from their smartphone. They don't have to make a special trip to your office to pick it up in advance of their next physician's appointment. They don't have worry about remembering to bring their CD with them, as my well-intentioned mother-in-law did. They can simply share the image securely with their doctor right from their smartphone. They can even send the image in advance, ensuring the doctor has sufficient time to review the image prior to their appointment. We find that patients are even happy to pay a small fee to avoid the inconvenience of tracking down their images and fumbling with CDs. An easier, simpler delivery is worth it.
9. It IS a No-Brainer!
With Purview's Patient Access, you can save ALL or at the very least MOST of the costs you incur today for burning CDs for your patients, while making your patients happier! At a time when insurance reimbursements are pinched and practices are busier than ever, wouldn't it be nice to have a solution that makes your patients' lives and your life easier and that's guaranteed to save you money?
So what are you waiting for? It's time for a change.
Call us: +1 (800) 501-1537 ext 2
Better yet, let us show you how this could work for your practice. Schedule a personalized demonstration today.