Whether it's Medstar's IT being held for ransom for $19,000 or Hollywood Presbyterian for $17,000, the FBI has made it clear that no hospital should pay ANY ransom to access their data. Instead, hospitals should invest in backing up their data to make it accessible in these worst-case scenarios.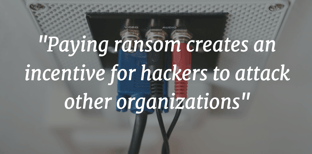 In a recent Wall Street Journal article, FBI Cyber Division Assistant Director James Trainor emphatically stated that companies should not pay ransom. He said that paying ransom creates an incentive for hackers to attack other organizations and that it could create situations where companies are attacked more than once.

Paying a ransom only exacerbates the issue. As the FBI stated, it will only lead to more of these incidents. So what's the alternative? The answer is simple: invest in data backup and access.

In a recent Fortune magazine article, Jason Rolla, Chief Technology Officer of Christopher Rural Health, described how scared he was and considered paying the ransom. To his relief, he didn't have to pay because the hospital's medical data and patient records had been copied and secured.

Hospitals are seriously behind the curve when it comes to protecting their patient's data. It has been proven that these organizations cannot function without access to these records. A blog post from Offensive Tech states that there are no more excuses IT can make for allowing ransomware to happen.

There will always be too few resources, users clicking malicious links and opening unknown attachments, and too little budget. But, if it means the difference between continuing patient treatment and shutting down for five days, it's worth taking the action required to prevent. The blog post states that the last line of defense will always be data backup.

Purview offers affordable, accessible medical imaging backup for hospitals with its Purview TRU Cloud. This solution seamlessly connects to a hospital's existing PACS to store the last 90 days of medical images and make them available from any browser, smartphone, or tablet despite a complete shutdown of the hospital IT systems.

Get ahead of the curve. Care doesn't have to be interrupted by ransomware.
---
Click below to download a TRU Cloud Fact sheet
and learn how to protect your data today!